Office space in the UAE is available for small, medium and big investors. Many people, in fact, associate it with dread, particularly entrepreneurs who are aware of the potentially high costs associated with any new office. Whatever your feelings about office hunting are, it is a necessary part of starting and running a business.
In this article, you will learn everything about the office requirements for companies based in the UAE. Let us observe:
1. What should be the goal when creating a modern office space in the UAE?
2. Is it necessary to have an office in the UAE?
3. The different types of offices in the UAE
4. How to keep your costs under control?
5. What exactly is a flexi-desk?
6. Getting the office space just right
7. How can Connect Group help you?
1. What should be the goal when creating a modern office space in the UAE?
In this section, we will discuss in general terms what a modern office space in the UAE should look like; how it should feel, and what effect it should have on those who work there.
1.1. Enhances creativity, collaboration, and communication
The three Cs of business are a set of behaviors that all managers strive to instill in their team members. When the three Cs are ingrained in everything your employees do, the result is high-quality work.
Managers and business owners can stimulate creativity, collaboration, and communication in a variety of ways. However, one of the most effective is through the environment in which their employees work.
1.1.1. Details
Incorporating bright colors into your design elements can help to stimulate creativity. Bright tones can boost your employees' creativity and help them work better. No matter if it is a theme that extends throughout your office space or just splashes of color here and there.
Similarly, the arrangement of desks, furniture, and technology can promote collaboration and communication. As previously stated, we will delve into the specifics of this concept in the following section. However, cubicles and private offices are not conducive to the type of collaboration and communication that you seek.
1.2. Reduce anxiety and stress
Modern office spaces should not only stimulate the three Cs, but they should also serve to reduce stress and anxiety. Industrial design elements, for example, such as exposed metal, unfinished stone, and sharp corners, have a place as an aesthetic.
When used excessively, however, they can give your team members the impression that they are just a cog in a much larger machine. This can produce stress and anxiety for them.
We are not saying you should avoid industrial design elements entirely — some of our favorite office spaces have them. However, rather that you should balance their effects with softer, more inviting elements like:
Comfortable couches.
Overstuffed chairs.
A natural color palette, such as greens, blues, yellows, etc.
These appealing elements contribute to the reduction of stress and anxiety that the fast pace of modern business fosters.
1.3. It allows team members to concentrate and focus when necessary
As previously stated, a modern office space should encourage collaboration and communication. However, there is a fine line between just the right amount of collaboration and communication and going overboard. Your team members will also require a location where they can focus and concentrate on their own or in small groups.
This essential activity should be accommodated in your workspace. If it does not, you risk alienating the part of your workforce that needs to be quiet and still to get things done. At first glance, this may appear to contradict the idea of encouraging collaboration and communication. But, in reality, it is the inverse of that.
Your employees refine the big ideas through collaboration and communication. Then they must delve into the details on their own to truly grasp where the concept is heading.
As a result, your office should have enough space for both of these activities to take place at the same time. In this way, your team members will be able to change activities as needed without interfering with anyone else.
1.4. It maintains a professional appearance for clients and customers
While some areas of your office space may be whimsical, strange, or simply chaotic; others should present a professional image to visiting clients and customers.
Typically, this means that the front-facing areas — such as reception, visitor's lounge, and conference room — should be designed in a more clean, uncluttered, and professional manner.
When a large customer comes to visit you, you will not have to run around trying to clean up the crowded collaboration space. And all this to project the refined image your company requires.
It is critical to separate these two distinct areas — client-facing and employee-facing — and design them to be functional, user-friendly, and professional. This is to make the best impression possible on those who visit your business.
2. Is it necessary to have an office in the UAE?
Most businesses are required to have physical office space in the UAE to register and operate their business. This requirement applies to the majority of business types that operate both onshore and in free zones.
Businesses with an eTrader Licence from the Department of Economic Development are an exception to this rule (DED). This license is for web-based businesses that sell services or products via the internet or social media. Commercial and professional eTrader licenses are available.
Both licenses are available to Emirati and Gulf Cooperation Council (GCC) citizens. Expats, on the other hand, can only apply for a professional license to provide professional services and cannot manufacture or sell physical goods. To apply for an eTrader License, you must be at least 21 years old, a resident of Dubai, and have a valid Emirates ID.
3. The different types of offices in the UAE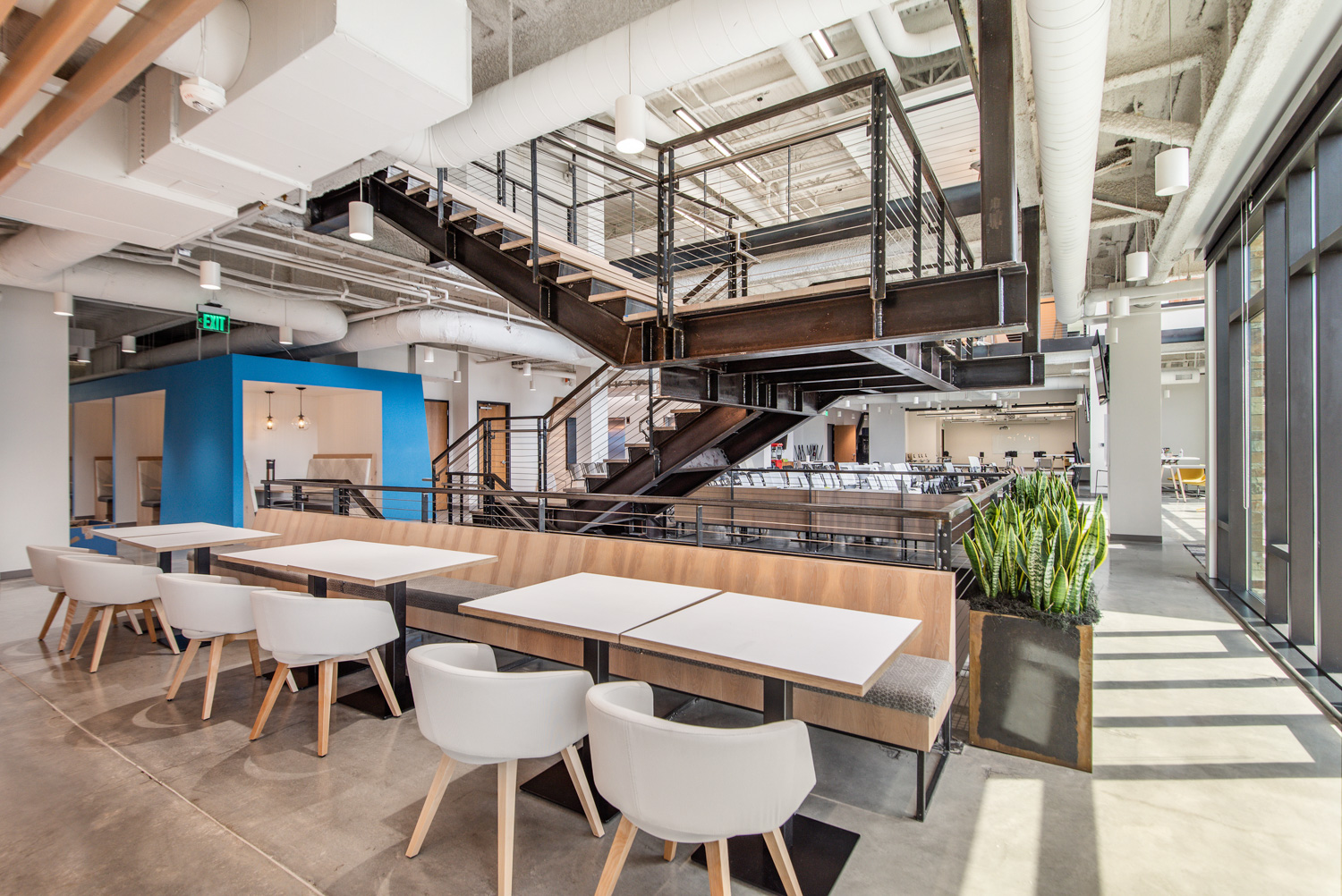 You can select an office for your new company in the UAE based on factors such as:
If your company is in a free zone, you will only need a "smart desk". However, if you want to expand, you will need to rent a larger office space. The following are the main types of offices available in the UAE for a new business.
3.1. Services offices
A third party owns and manages this office. You will receive all of your business's needs (such as a phone, desks, internet access, and so on) immediately after renting the office. And the cost of these services will be adjusted every month.
These facilities offer cost-effective options for ideal office space and the environment for a new business. These serviced offices are easily available for rent, and you can open your business in them in a matter of days.
Other advantages of such offices include the fact that the majority of these serviced offices are owned by international chains, and members of all of these offices can use their other premises in various parts of the world.
3.2. Offshore locations
If you are establishing a business in the UAE's Mainland, you can choose from a variety of office locations. Onshore companies con use:
Sublets, mixed-use buildings (both residential and commercial use).
Offices that require decoration and fitting.
Onshore/offshore offices have the advantage of allowing you to rent them for longer periods. No matter if other offices require you to sign a minimum length of the contract. In these onshore offices, you can even get rent discounts if you sign a lease for a longer period.
However, keep in mind that service bills are the most important part of the rent. Hence, you must pay them on the first occurrence on the majority of occasions. The majority of the time, you will need to decorate and furnish your onshore office. In the case of longer leases, you may face higher penalties for early termination of rent.
Serviced offices are ideal for those who want to pay a fixed rent throughout the lease.
3.3. Offices in Free Zones
These offices can be found within free zones. There are rules in these free zones that state that you must have a certain amount of space for employees. In addition, you must rent an office based on your license jurisdiction, visa, and business activity. Different free zones permit different types of business.
Some of these specific free zones include media-free zones (Dubai Media City, Shams, and so on), health-free zones (Dubai Health City), and others. If your business is in a free zone, these free zone offices are the best option for you; as they will provide you with appropriate office space and facilities based on your needs.
In addition, Connect Group can help you to set up in other Free Zones such as RAKEZ and JAFZA.
4. How to keep your costs under control?
When renting office space in the UAE, the first thing to figure out is what is included in the price you are agreeing to pay. Many serviced offices include utilities like phone and internet service; as well as services like cleaning and use of shared equipment like printers and fax machines, in the rent. Others, on the other hand, will charge a service fee on top.
When the latter is the case, it is critical to understand what is and is not included. It is not uncommon for serviced office providers, for example, to charge a flat fee for all extras such as:
Call handling.
Use of common areas.
Server space.
Make it clear if you do not require these services before signing on the dotted line. When it comes to free zones, inclusions vary by location, but most are set up for businesses to move in with little worry; with the internet, phone lines, desks, and other standard amenities.
4.1. Summary
When it comes to onshore offices, there is even more variation from location to location. While some may be connected and ready to go, others are simply shells – four walls that require fitting, furnishing, and decorating – the cost of which you, the tenant, bear.
The advantage of these types of spaces is that you can decorate them to your liking and partition the space to your exact specifications. Nevertheless, the disadvantage is that only the shell itself is included in the base price – not the cost of customizing it. Hence, they are not always the cheapest option.
Finally, whatever type of office you choose, do not commit to anything for an extended period. For office leases there is any "standard term". However, they are typically negotiated over three to five years – although many serviced offices offer month-to-month, weekly, or even daily rental.
Always consider the short (and long-term) picture when renting. This is to avoid being stung with office space you do not need or an early exit fee if your circumstances change.
5. What exactly is a flexi-desk?
A flexi-desk is a simple workstation. A company can lease one to serve as the physical location and address listed on its company's registration. Within a shared office space, these workstations typically include a simple desk and chair.
In addition, amenities such as high-speed internet, free tea and coffee, lockers to secure personal items, and parking are usually available. The primary advantage of Flexi-desks is their low cost. These workstations can be rented for as little as 50 AED per day (approximately USD 14).
These may be included as part of your business registration package in some cases.
6. Getting the office space just right
The type of office you choose will be heavily influenced by the type of business you run. If you decide to set up a shop in a free zone, for example, a free zone office is the obvious choice.
Similarly, if you do not want to fit and decorate your new surroundings; or if you do not want to deal with the administrative duties of setting up amenities and the like, a serviced office is probably your best bet.
No matter the type of office you choose. However, it is critical that it adequately reflects the status of your company and sends the right message to both visitors and passers-by. This is much more than a matter of vanity. Both the location and appearance of your office can have a significant impact on the caliber of staff and clients you can attract.
Your office, in fact, is as much a part of your brand as your logo or marketing materials. Suppliers, clients, and customers will form opinions about you and your company based solely on the premises you occupy. Thus, first impressions are important.
7. How can Connect Group help you?
Starting a business in the UAE can be intimidating. You may be unsure of which office requirements apply to your business. Connect Group is well-versed in government regulations and business standards in the UAE and the Middle East. We can advise you on the most appropriate office layout for your needs while remaining fully compliant.

Would you like to contact us to obtain more information about office space in the UAE? If you have any questions, call us on + 97143316688. You can email us at contact@connectgroup.co. After that, you will talk to one of our representatives who will answer your questions.
Visit thetalentpoint.com and apply for many different job opportunities in the Emirates and the Middle East. If you do not want to register, you can still send your CV through contact@thetalentpoint.com. Change your life today!