Get access to the

best Executive Offices in the UAE
If you are looking to work in an outstanding fully-furnished executive office in Dubai with a prime location while being cost-effective; in Connect Group we are here to assist you in the entire process. In addition, we also offer you a physical work address in an excellent business center. With us, you will access premium executive offices in the UAE.
On the other hand, executive office spaces are one of the important elements that investors look for when setting up a business in Dubai. Similarly, it is mandatory to have a suitable office space during the business formation process. That is to say, you can start working in our office spaces if you want to establish your business in the city.
Moreover, our comprehensive range of services also includes business setup services, virtual office spaces, coworking spaces, private offices, conference and meeting rooms, and other business spaces in Dubai.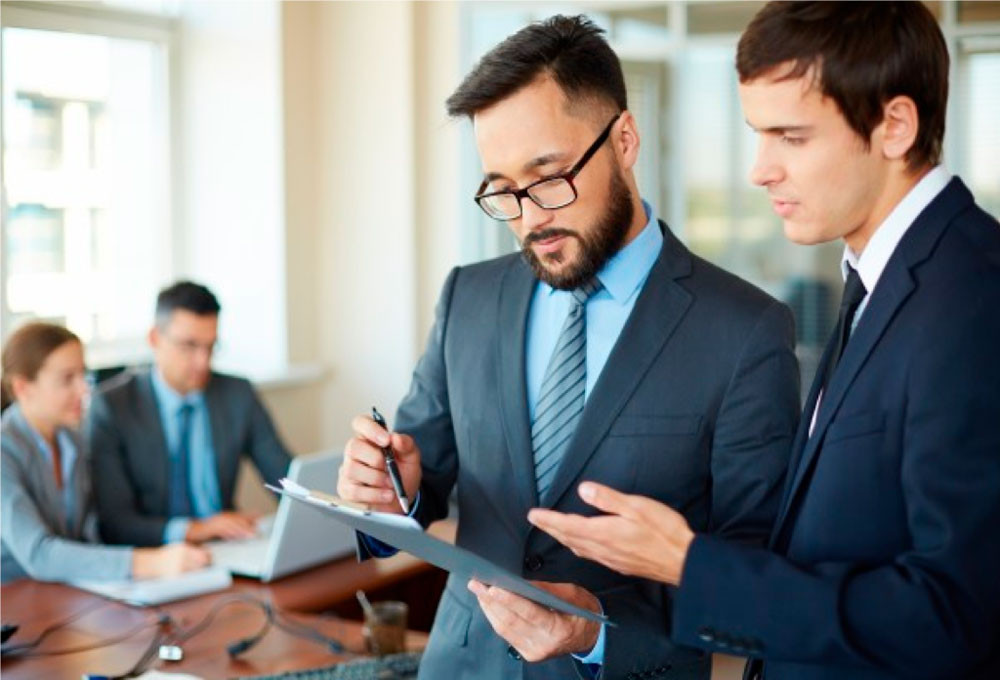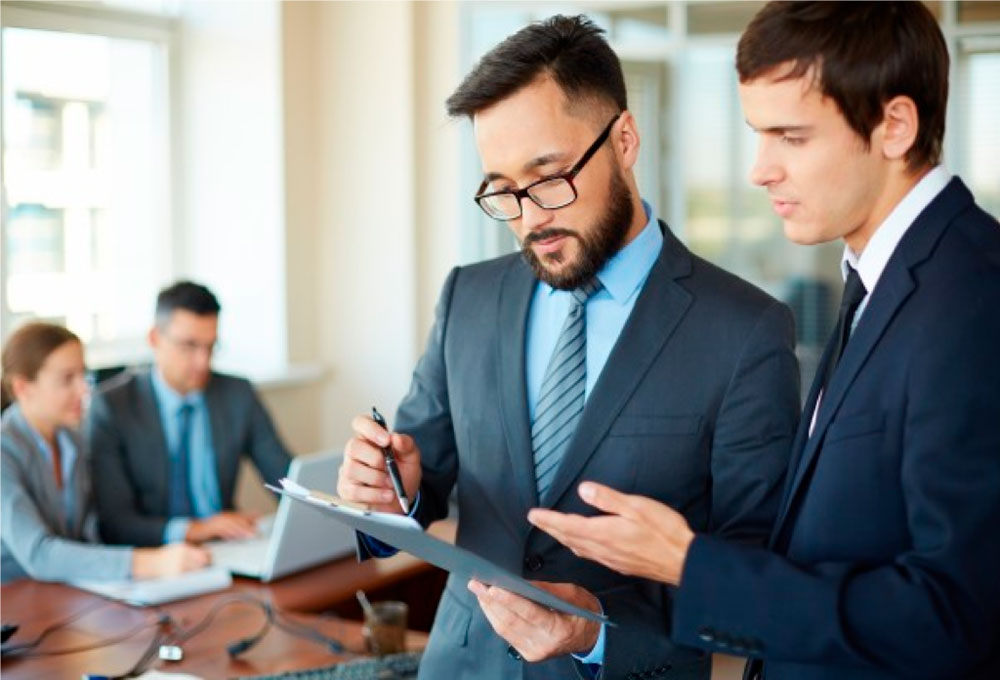 With us, you will obtain outstanding benefits:
Are you looking for
best executive offices
in the industry?
Our office spaces are optimized for maximum productivity. In addition, we created them to adapt to different work types; providing different settings and various office executive desk to tailor to all companies.
We hold networking events in our executive offices to help companies find new clients or partnerships, educational workshops, and brainstorming sessions with other like-minded businesses.
With us, you will only need to pay for the areas you will use and include various perks like printing services and cleaning staff at no additional costs.
Discover more about our
premium office spaces
Our executive offices in Dubai have the main purpose of serving you as a center of operations for your companies. In the same vein, it works at a base of operations in which company executives carry out their day-to-day duties. On the other hand, our executive spaces are also known by other names such as main office, company headquarters, etc.
Likewise, another function of our executive office in Dubai is being an effective hub of coordination among businesses. In other words, it arranges all activities of the associated facilities of a company. In addition, it is also important to have in mind that our office spaces in Dubai have additional services like high-speed Wi-Fi and P.O. Box.
For instance, our executive offices in the UAE are not meant to house the production or manufacturing facilities of companies. However, other areas of the companies may be useful to carry out these types of operations without including the executive office. It is possible to find other areas near the main headquarters in most businesses.
Contact Us
by Connect Group of Companies
We offer you only exceptional spaces
We have the best services for different industries such as:
Employer of Record

Real Estate

Staff Outsorcing

Freelance

Business Center

Company formationn search

Healthcare

Business Consultancy

Tax Consultancy
Connected Employers and Employees
We will offer you only the best services
Our business centers solutions in Dubai will allow you to access the most complete executive office solutions across the UAE. Further, we make sure to offer you perfect fully-furnished spaces so you can start your business without wasting massive amounts of money. Likewise, with our spaces, your workers will have additional amenities for them.
As your Employer of Record and your PEO service provider, in Connect Group we are committed to assisting your business in any issue that can come up. In addition, we will take care of the traditional duties and activities of your business; including all functions of your staff. In the same vein, let's observe how you can take your company to the next level.
Certainly, you can choose from a variety of virtual offices in the UAE. In addition, we ensure that our packages include the solutions that you need the most. Similarly, our agents are available if you need any type of support.
In Connect Group we have more than 2 decades of experience assisting entrepreneurs and investors to start their business hassle-free. Throughout the years we have been creating alternatives to go along with new practices. Therefore, we will provide your company with innovative new practices that will modernize your operations.
As a result, we have provided an executive office in the UAE for those businesses who want to take advantage of the best spaces for their organization. In the same vein, you can partner up with us to have an easy entry into the local market. That is to say, we have the required connections that you need to take your business to the top. For instance, some companies take this space and set it aside and reserve it for key individuals of their organization. Moreover, our executive offices are multifunctional and have space for other areas such as private restrooms and sitting areas. In most cases, you can find an extra room to store extra clothing and extra space for showers. Our office executive desk is a modern and familiar environment; therefore, it allows you to work without any problems. Our offices offer space for the most innovative and fastest-growing small businesses, startups, and entrepreneurs.
In Connect Group we will provide you with excellent executive office solutions as soon as you require them. As a result, you can start working in the UAE as soon as possible. In the same vein, you can take advantage of our benefits such as dedicated customer service, resources, top-notch technology, and more. We are glad to be the connection between investors and the local market. In other words, assisting entrepreneurs to succeed in the UAE is one of our main objectives. This way you can keep working wth us as your business starts to grow.
Cost-effective services for your business
We will establish a clear communication line between your business and our team of experts; this way we can work around your budget and reach a solution. We want your business to thrive in the UAE, we are ready to assist you.
Contact Us
Working with us and obtaining our solutions is easy
Contact us
You can contact us whenever you like and we will start discussing your business requirements for an office space.
A comprehensive range of services
We will discuss the range of services you want to take advantage of according to your business requirements. After that, we will take care of the different activities such as
company formation
, executive offices, etc.
Additional benefits
In addition to the best executive offices in Dubai and the UAE; we also offer you additional perks such as high-speed Wi-Fi, reception services, cleaning, free parking, and others at no additional cost.
Premium location
Our
business center
is in the center of the best areas across the UAE; we offer you visibility but also prestige and relevancy to your actual and future clients.
Flexibility and adaptability
The constant changes in new business models are common nowadays. That is to say, in Connect Group we will provide you with comprehensive solutions in adaptability and flexibility of space, equipment, and technology as agile as the growth your company will have.
Custom made
You can tell us what you require and how you want it and we will design and build an executive office adapted to the current and future needs of your organization in the United Arab Emirates. In the same vein, we will take care of customizing and arranging all the designs as well as integrating your corporate image with no additional costs.
The best technology at zero cost
Innovation is one of our top priorities, that is why we offer you the best and latest technology for your business. In addition, it is completely safe and adapted to your requirements. Therefore, you just need to sit and enjoy all the benefits we have to offer you.
Always available
If you are looking for the right space which ensures maximum availability, we will adapt to what you require. In addition, we offer you a 24 hours entry services as well as an excellent security team.
Immediacy
If you want to start working right away you have arrived at the right place. Similarly, if you want to start working today, you can do it; your satisfaction is one of our objectives. That is why we work hard to give you all facilities to start working in the best executive office.
We are the best business center
in the UAE
It is important to have a suitable executive office space that covers all your requirements and needs. Otherwise, it would be a complicated activity to operate your business without having the best services and facilities in the UAE. In addition, having your own office executive desk will allow you to work properly.
On the other hand, obtaining a business address in Dubai will boost your business massively. Likewise, it allows you to expand your company once you have established it. Further, we offer you a wide range of solutions to choose from when you rent our offices.
Our executive offices in Dubai and the UAE can have different uses within a company. In the same vein, you can also use it as a reception area to receive special guests. For instance, in this type of reception space, you can make your customers and guest feel comfortable while they are waiting for their appointments.
In other words, executive offices are also known as executive suites. That is to say, our spaces are perfect for working in a quiet environment. For instance, they are also ideal for holding meetings with executives within your company. In short, these spaces provide you with an ideal atmosphere for conducting important meetings too.
Our fully furnished executive offices have all the required tools and resources so you can operate your business easily and properly. For instance, our offices have internet access, filing cabinets, computer connections, workstations, telephones, etc. Moreover, we set these elements in strategic locations avoiding them from becoming obstacles.
If you are looking for outstanding executive offices for rent in Dubai and the UAE, you will find them with us. And it does not matter what your business requirements area; we will provide you with a fully-furnished office at affordable prices.
Learn about the
best spaces for you
If you are renting an office, there are associated overheads you need to deal with; especially if your workers are looking for amenities like snacks, free coffee, etc. However, our executive office in the UAE has like these at a monthly rate. In addition, they also come with many extra business services like mail; which will save you money in the long run.
Further, it is important to consider what features you want before choosing the right space for your company. Our cost-effective benefits are beneficial to small businesses in the UAE.
This is true for small companies who have done home office. That is to say, when you are at home, you can easily get distracted. For instance, your kids may need attention, special projects may come to your mind, or you need to clean the house. Therefore, when you start working in our executive spaces; you enter a "work mode" that will increase productivity.
In addition, our executive office in Dubai is accessible 24/7, this way you do not have to worry about anything.
For workers at an executive level, a proper meeting outside their home is practically a basic necessity. In other words, apart from effortlessly hosting visitors in it; our executive offices are fully-furnished. This means you do not need to waste massive amounts of money shopping to fill empty office space.
In Connect Group we offer you the convenience of a move-in-ready space. In addition, if you are looking for a short-term commitment, our spaces have flexible lease terms.