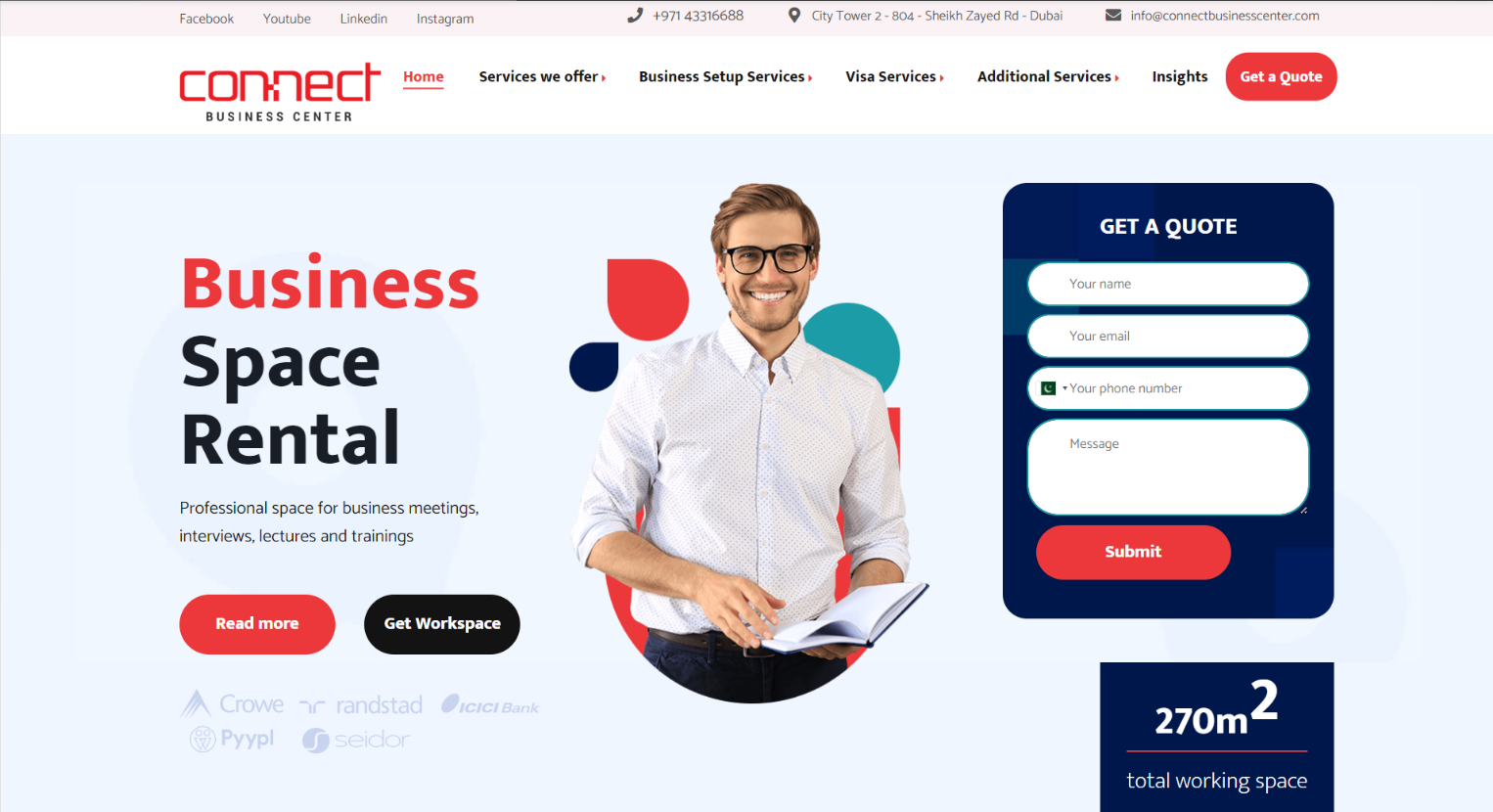 Contact our team and you will receive the high-quality business services that your company requires.
Go to Connect Business Center
Get the most favorable office space with

Connect Business Center
Having a comfortable space to work can allow you to operate your company smoothly.
In Connect Business Center we are the leading business center in Dubai. Similarly, we offer an ideal option for emerging businesses to establish flexible, ready-to-use, and rapid professional office spaces.  In addition, we also offer you a comprehensive range of solutions so you can set up quickly.
It does not matter if you need meeting room access, a fully-serviced office, coworking membership space, or e-packages; we assist you to start with everything you require.
In other words, requesting our services is one of the most suitable options for new entrepreneurs and investors in the UAE. That is to say, with these solutions, you are able to find the office spaces your business needs to operate your company without spending massive amounts of money. Therefore, many businesses consider us as a cost-effective option for them.
We are known for being a good partner for businesses in Dubai and the UAE; we also have fully furnished office spaces. Further, in most cases, we also offer tailored packages that include various types of offices for entrepreneurs and investors. For instance, we offer you virtual offices, serviced offices, and other types of office spaces.
In addition, our business center in Dubai is popular for providing our partners with cost-effective services with top-quality support. That is to say, we also provide a dedicated support team in order to take care of the issues; this way you can focus on doing more essential activities. Meanwhile, you are able to save money and resources.
On the other hand, you must know that business centers are also known as serviced offices in the UAE. Similarly, you should know that property management companies or office brokers are the individuals in charge of managing them. Therefore, if you need to rent an office space for your organization; we will be glad to assist you at any time.