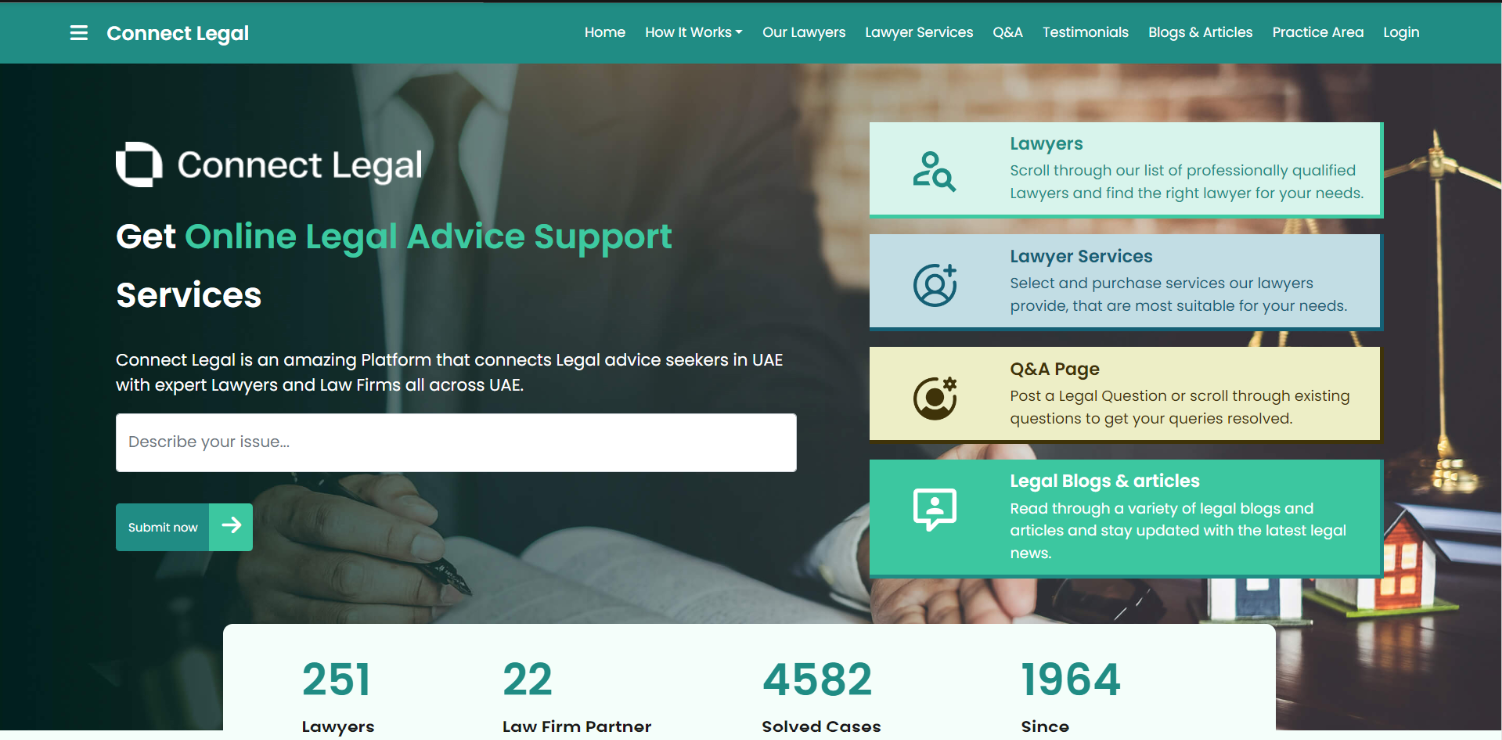 Contact our team and you will receive the high-quality business services that your company requires.
Go to Connect Legal
Get the best legal assistance in the UAE with

connect Legal
Having a comfortable space to work can allow you to operate your company smoothly.
We have the best team of experienced expert lawyers in the different rules and regulations that will solve your legal problems. In addition, we can assist you in various specific legal areas and understand your special requirements to provide the best solution.
We provide you with assistance in legal areas such as divorce and family law, criminal justice, civil law and rule of law, Risk mitigation and legal disputes, assistance with legal documents, and legal advice and information.
With us, you can find legal advice with just one click.
We work on a comprehensive range of legal areas; our team of workers is here to assist you to obtain legal services in Dubai and the UAE. In addition, we are in the best position to represent our clients in legal matters; making us the most trustworthy platform in the UAE with the best legal advisors.
Multilingual support.
Senior Legal Consultant.
Get Free Legal Advice.
Legal Help when you need it.
For every legal difficulty level; you can search legal experts online and get instant services and help as well as top-quality assistance. You can learn more about legal advisors by looking at their practice areas. For example, in the case of various clients having conflicting appointments for the same legal area; we follow the "first come, first served" policy.
Similarly, as we mentioned earlier, if you need a divorce decree, legal separation, child support, or allocations; you can be sure we will assist you at any time. In other words, you can get in touch with us via phone or email; you can also visit our offices to request our partnership, get assistance, or solve any legal questions.
In conclusion, when you work with us, you receive special help for your special requirements. It does not matter if you are looking for a civil lawyer or a patent attorney; in Connect Legal we got your back.
Exclusive Features
Create awesome websites with Essentials
Comply with all the labor laws of the UAE
In Connect Group, with our team of legal experts, we ensure compliance with all the labor and employment laws of the UAE.
Explore Essentials
See our pricing
Future of design

Awesome bootstrap theme

Revolutionary design
Get Connected with our Experts
Get your Legal Advice with the Best Lawyers in UAE