Company Setup in Dubai Mainland is one of the most lucrative investment options for businesses and investors. Companies in Dubai Mainland are organizations that operate with the specific geographical boundaries of the Emirati Jurisdiction. However, all entities that are under professional, commercial, and are established under the DED (Dubai Economic Department) are also known as Dubai Mainland License.
In this article, you will learn everything you should know regarding the Company Setup in Dubai Mainland. Similarly, you will be able to understand every part of the: requirements, the business setup process, and all benefits. Likewise, in this article you will understand why setting up in the Dubai Mainland jurisdiction may suit your business. Let's observe:
Pre-requisites to set up a business in Dubai Mainland
Benefits of a Company Setup in Dubai Mainland
Types of business licenses
Setting up a company in Dubai Mainland
Documents required to open a business in Dubai Mainland
Mainland Business set up jurisdictions in Dubai
How Connect Middle East can help you set up your company in Dubai Mainland?
1. Pre-requisites to set up a business in Dubai Mainland
To establish a Company in Dubai Mainland, investors must:
Acquire a commercial or professional license.
Have one director minimum.
Words that carry religious indications, Dubai, or UAE must be avoided.
The physical presence of shareholders or investors in the UAE.
Dubai Mainland is one of the best destinations to establish in the UAE, learn why you should establish here.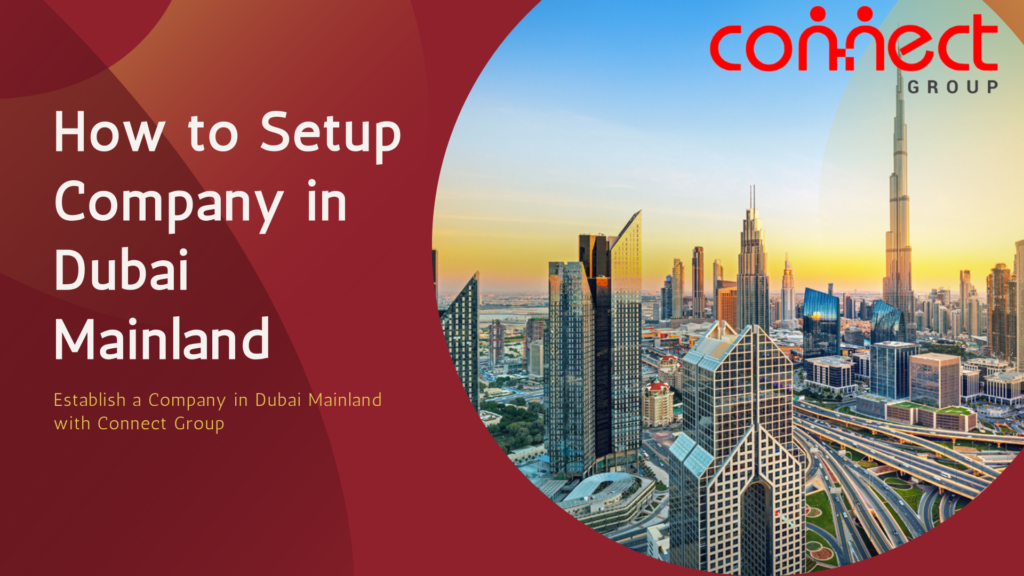 2. Benefits of a Company Setup in Dubai Mainland
Easy business setup: the process of setting up a business in Dubai is an easy process and does not require much paperwork. You can always contact an experienced business setup consultant that can assist you throughout the whole process. Likewise, the Company Setup in Dubai Mainland is a process that does not take several weeks.
Recruiting Employees: Dubai and the UAE have become some of the most popular business centers globally. Entrepreneurs and investors all over the world want to set up their businesses in the country. In other words, the UAE has expanded from the oil business to other industries such as hospitality, logistics, tourism, etc.
No Taxation: one of the most important benefits of a Company Setup in Dubai Mainland is that your organization does not pay huge taxes. Likewise, Dubai offers total exceptions from taxes, whether it comes from corporate, personal or income tax.
Technological Advancements: Dubai is one of the most advanced digital facilities not only in the Middle West but globally. This city has incentivized several tech initiatives when it comes to providing world-class internet services, eCommerce, healthcare, etc. This creates and increases opportunities to conduct business in the country.
Advantageous Geographical Location: the UAE is located in the perfect place to connect Asia, Europe, and North Africa, this creates a natural bridge between producers, suppliers, and manufacturers of goods from around the globe. In addition, Dubai also has one of the most actives airports in the world. Both airports and seaports are located perfectly to provide the best logistics to companies that want to establish in Dubai or the UAE.
Easy Visa Obtaining Process: one of the main benefits the UAE offers is that you can easily get an employment and residential visa.
Learn about the Dubai Golden Visa program in the UAE.
       3. Types of business licenses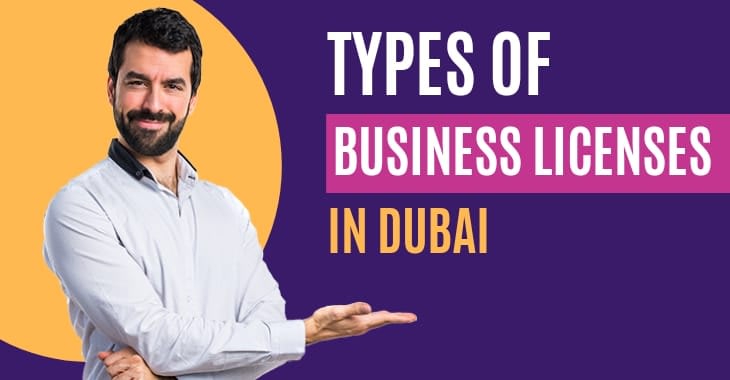 There are 4 major licenses for companies operating in Dubai and all across the United Arab Emirates. All business licenses are issued depending on the type of business you have:
Professional License
This type of license is issued for companies that perform a service-oriented business. Similarly, professionals in the area of consultancy, lawyers, IT service suppliers and mechanics need this type of license. However, compared to others, this license is cheaper than others.
Commercial License
Licenses are issued for those companies that undertake the activities like selling and buying goods, or just trading. Moreover, this type of license is very common all across the United Arab Emirates. In addition, all trading companies select the general trading license to legally operate with more than one trading endeavor.
Read More About : What the Business Owners Must Know Before Starting e-Commerce Business in Dubai
Industrial License
Companies involved in the manufacture of physical goods like industries and factories apply for this type of visa. Moreover, when you apply for this license, applicants must seek the approval of some government departments and external ministries depending on the type of industrial activity.
Tourism License
All activities involving tourism require a Tourism License. Likewise, the DTCM (Department of Tourism and Commerce Marketing) is the entity that issues all tourism licenses. Similarly, applicants must have a valid tourism license to conduct outbound and inbound tours-related activities.
We have an in-depth article about the types of trade licenses and their costs.
4. Setting up a company in Dubai Mainland
Choose your business activity: some free zones allow only certain types of activities such as medical, transport or media and apart from the restrictions, it makes perfect sense to set up in proximity to companies in the same sector. You can decide if you want to settle here, but it will also give you the option to remove some options early in the process.
Choose your company name: the UAE government is really strict when it comes to the business that wants to settle in the country. Avoid using names that include offensive language, also avoid using names that refer to Allah, any religion, political or sectarian groups, such as 'Mafia' or 'FBI'. However, if you decide to choose a name after an individual, they must be the owner or partner of the company. You must use its full name, no abbreviation or initials.
Finnish the necessary paperwork: applicants must submit an application form for your activity and your company name, also you must provide copies of all your partners' passports. However; Company Setup in Dubai Mainland requires additional documentation, such as a Non-objection Certificate (NOC) and a business plan.
License notification: once your business application has been approved, the UAE government will you with a business license. At ConnectGroups, we will notify you when the documents are ready.
Open a bank account: once your paperwork is approved and returned, you will have all the documentation to open a bank account. Once your paperwork process has been returned, then you will have all the necessary documentation you need in order to open your corporate bank account.
Process your visa: this is the end of the process; this step consists in 4 stages:

Entry permit.
Status Adjustment.
Emirates ID registration.
Visa Stamping.
5. Documents required to open a business in Dubai Mainland
All document requirements change with every partner. Individual partners require another set of documents, this also applies to corporate shareholders. All requirements are in the list below:
Individual shareholders:
Directors, foreign shareholders, directors and managers must submit copies of their passports.
If the shareholder is on an employment visa, the No objection certificate is applicable.
Copy of the shareholder national ID card.
Removal of mandatory of a Local Sponsor
Before the new regulations, businesses needed a local Emirati sponsor in order to establish a company in the UAE. One of the riskier points of this is that the sponsor would hold 51% of the company shares and all documents are addressed to him/her. However, the UAE government decided to remove this law in order to increase the arrival of expatriate businesspersons.
Corporate Sponsorship
Mainland businesses may seek the service of a sponsor. In this case, the organizational sponsor would work on behalf of the individual sponsor.
Type of company formations
Incorporation of Professional Company: businesses rely on the intellectual and professional abilities of their shareholders. Companies that provide all types of consultancy services are labeled as 'Professional companies. Educational consultants, legal firms, and accounting firms all are labeled as Professional Companies. This type of company needs a professional trading license to operate in the UAE. demand educational qualification of the shareholders in order to ensure the quality of the services.
Incorporation of branch office: branch offices can operate in Dubai as a child of the parent company and perform all transactions upon parent company and all business activities. Likewise, the activities include all settlement of agreement of the company and customer-oriented interactions. Companies of the financial sector like financial institutions, banks, and insurance companies can set up branch offices.
6. Mainland Business set up jurisdictions in Dubai
Setting up a mainland company in Dubai has advantages like the ability to select a range of locations. However, the most common business jurisdictions are in the next list:
Business Bay: this jurisdiction is the ideal hub for services like hospitality businesses. However, from big MNCs to small shops, this is an ideal setup location for several business establishments. That is to say, this area is located between Sheikh Zayed Road and Dubai Creek.
Deira: this is one of the oldest regions in the city. Deira jurisdiction is located in Dubai north, this jurisdiction shares borders with Sharjah and is the ideal place for establishing medium enterprises and small shops.
Al Quoz: this business jurisdiction is located in the southwest region of the city and is basically an industrial area. As an industrial area, Al Quoz is the perfect location for setting up industrial companies, warehouses, and other industrial-related activities.
Al Qusais: this Dubai mainland jurisdiction is close to the Dubai international airport and like the Al Quoz area; Al Qusais is another industrial area. Similarly, the region has one of the best residential complexes in Dubai. Moreover, Al Qusais is the perfect place for setting up a mainland company in Dubai.
Jumeirah: this business jurisdiction is located on the west coast. Jumeirah is a good destination for the tourism and real estate sectors. In other words, restaurants and resorts attract tourists from all over the world.
Setting up a company can be an expensive process, learn how to establish a low-cost business in Dubai.
7. How Connect Middle East Can help you set up your company in Dubai Mainland?
In case you have decided to Setup up a mainland company in Dubai; what you should do next is to find a business partner that suits your company. Finding a good partner is one of the most important steps, doing so, you will start taking advantage of the benefits of working in Dubai and the UAE.
All our services are focused to improve your business and allow it to expand and grow efficiently. Connect Services Middle East is part of ConnectGroups. Some of our services include PRO services, bank account opening, and many others.
We have been working with all types of businesses in Dubai and the UAE since 1998. We are authorized to work in Dubai and the UAE by the Ministry of Labor (MOHRE). In addition, with Connect Middle East working side by side with your company, you can establish you or your business in any of the UAE free zones.
After you finish your Company Setup in Dubai Mainland, you should request our other services to benefit you or your business's growth. For example, you can use our recruitment services and find the employees you need using our methodical ways. Or in case you want to improve your HR department, you can ask for HR consultancy and payroll services.
You can email us at contact@connectgroup.co or visit our website to obtain more information. However, feel free to contact Connect Services Middle East at any time you want to request our services by calling us on +971 4331 6688.