Open a business

bank account in Dubai with our support
With Connect Group help, you can open a business account in Dubai in no time. Our company can serve as a bridge between you and a banking entity to allow you to have a local commercial account. Subsequently, you can have a place to make your financial dealings and obtain most of their benefits.
Our agents will make sure that you can have access to business loans, savings accounts, credit, and checking accounts. All of these services are especially dedicated to companies. Opening a business bank account is very important. So, we will ensure that you can take this important step towards your organization's success.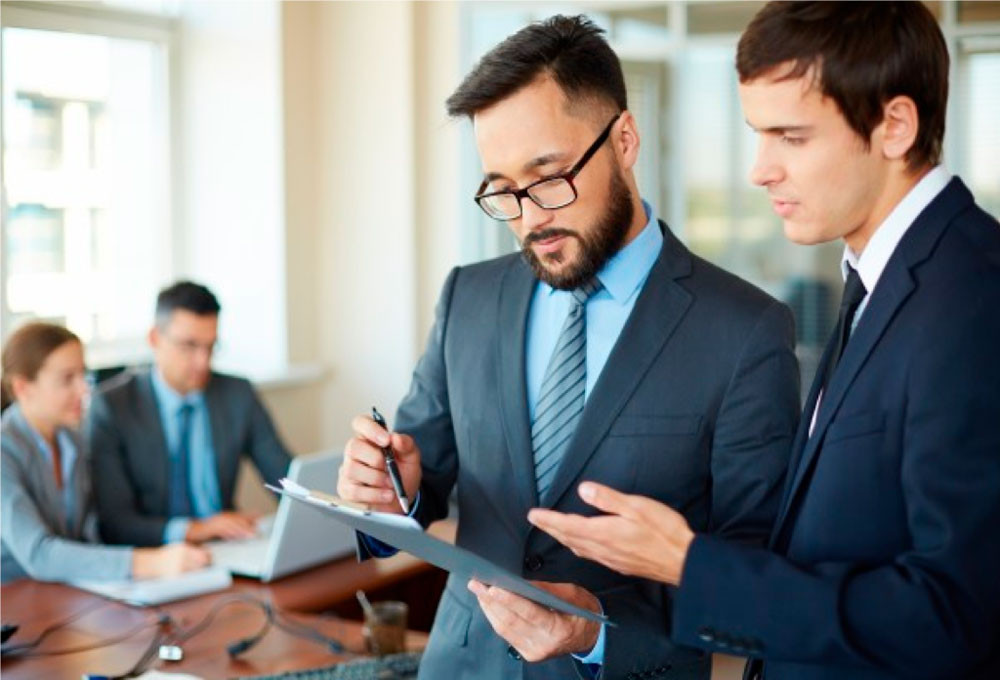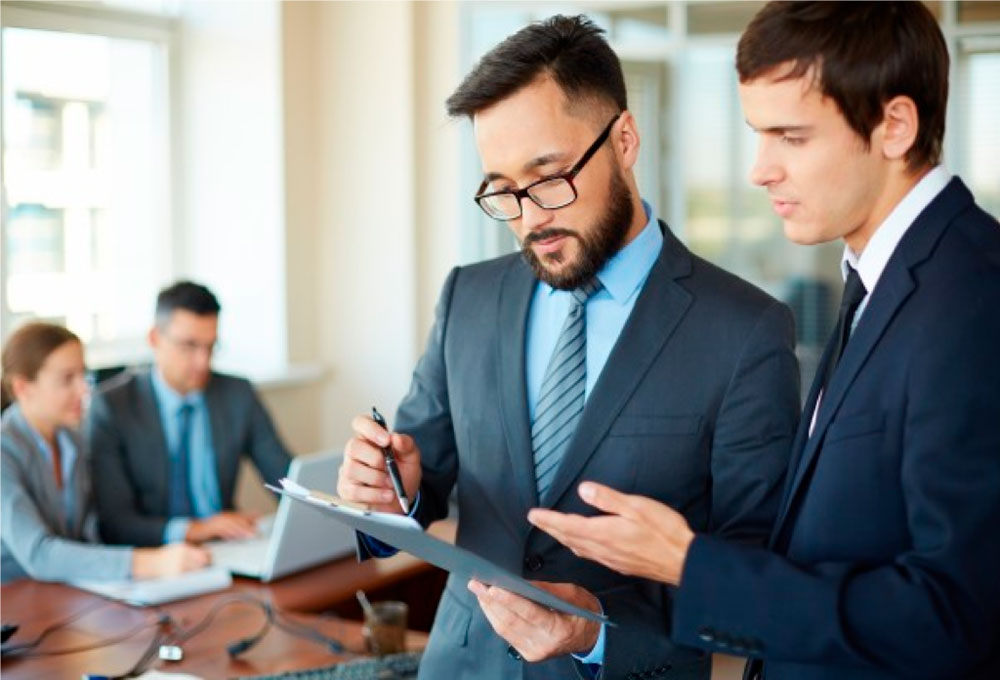 Do you know the process to
open a business bank account
in Dubai?
We offer you a cost-effective package that can include more than this one service.
Connect Group offers you the opportunity of hiring our solutions and open your business bank account in no time.
Furthermore, we will act as a bridge between you and the local bank entities. Leave this overwhelming process in our hands and you will have your business account quickly.
Learn more about how to open a
business bank account in Dubai
We take care of ensuring that you can open a business account in Dubai as soon as you establish your company. Consequently, you will be able to have your personal and business incomes separate.
Therefore, this practice can make it easier for you to keep track of your company's finances. In the same vein, you will be protecting your savings in case of any financial issue with your organization. Lastly, with a business bank account, you can save time in case you need to complete a tax return.
Additionally, by having a commercial account you can have a safe place to store your income, accept non-cash payments for your clients, and have extra benefits for your business. Small companies must know that hiring banking services can help their business grow in a short amount of time.
Contact Us
by Connect Group of Companies
Enjoy all of our advantages:
We have the best services for different industries such as:
Employer of Record

Real Estate

Staff Outsorcing

Freelance

Business Center

Company formationn search

Healthcare

Business Consultancy

Tax Consultancy
Connected Employers and Employees
Have your business account in place with our support
With our banking services, you can obtain financial and consultancy services for your local business. Our agents will ensure that you can enjoy all the benefits of opening a business bank account in the United Arab Emirates. It does not matter if you are a small, medium, or large corporation. All of our solutions cater to any kind of company.
We offer banking services such as non-interest-bearing products, deposit accounts, commercial loans, real estate loans, and credit card services. In addition, we will make sure that the bank entity that we are working with provides you with asset management and securities underwriting to meet all of your expectations.
Connect Group has years of involvement in helping companies open a business bank account in Dubai. We work closely alongside banks to make sure that our customers are obtaining a great service from them. Moreover, we provide you with all of our solutions so your company can operate within our region with no hassle.
In summary, we want to inspire you to navigate through new opportunities. We are dedicated to our craft, so we want to help you make the most out of your company. Our agents want to provide you with all the banking services your organization needs to thrive.
From facilities to investments, cash management to payments accounts to transactions. With us, you can make sure that your company is on the right path towards success. We want you to be the paramount company in your field.
Initially, you need to get in contact with us, we recommend you to give us a call or send us an email and we will shortly schedule a meeting with you. Secondly, in the meeting, we will make sure you understand every step of the bank account opening process.
Thirdly, we will provide you with the list of requirements you are going to need to open your business bank account. Fourthly, we will be submitting all your paperwork for you to the bank entity. Then, you need to provide the minimum capital to open it, and finally, your commercial account will be in place.
Obtain our cost-effective and beneficial solutions for your business.
We have more than 21 years working with businesses across all the industries in the UAE. Start now and be one of our partners.
Contact Us
Take advantage of the benefits we have for your organization
Constant Support
After you open your business account in Dubai, we can still provide you with services for your company. Get in touch with us to learn more about what we have to offer.
Answers to your Queries
We can provide you with answers to all of your inquiries. It does not matter how big or
small is your business
issue, we make sure to give you all the necessary resources to tackle it.
Complete Protection
We assure you that your business opening transaction with the local bank will be completely sealed.
Choose the Perfect Program
We offer different options according to your business needs. Subsequently, you can choose the one that fits your company best.
Easy and Effortless
Our company will have your business bank account in place with no complications. We make sure that you do not have to make any efforts to open it. Just hand us the paperwork and we will do the rest for you.
Bank Financing
Depending on your business' needs, we can offer bank financing services to keep your business growing. Our agents can help you obtain fixed-term loans, lines of credit, long-term loans, and much more.
No Stress
With our team members by your side, you will not have any stress about your business operations. We make sure to give you every single service we have to keep you from the hassle of managing every aspect of your organization.
Cash Management
Our company can help you obtain cash management services to support your company while achieving greater proficiency in managing their payables, receivables, and liquidity.
Fraud Protection
If you need it, we can obtain fraud insurance for your business. As a result, your company will be protected from any sort of fraud.
Have your business bank account
in a matter of days with our support
With your company, you can open a business checking and savings account. The first one can be used for receiving your payments and covering company expenses such as sufficing payrolls and buying supplies. On the other hand, the savings account can be utilized for long-term savings and other projects. Do not keep yourself from slowly building an emergency fund that can help you get through difficult times.
We will help you compile all the pertinent documents before you open a business bank account in Dubai. These documents include your business ID card, certifications provided by the local authorities, permits, licenses, and more. You must provide us with every single document necessary. Otherwise, you will not be able to open a business bank account in the region.
We partner with bank entities that can allow you to check your bank operations online. After you open your online account, you can view your balance, pay bills, make transfers, and more. This is a very important benefit to keep your banking records accurate. Moreover, we can help you manage it if you do not know how the system works. We promise you total transparency and reliability.
Connect Group offers you the most
essential services for your business in the UAE
The Talent Point is our recruitment platform available for you at any time. Here, you can find the most qualified professionals ready to fill any job vacancy you may have. We provide you with a wide international talent pool where you can find efficient individuals that can help you improve your company's productivity. Similarly, we make sure that job searchers can find the most incredible job opportunities that match their qualifications.
Connect Group offers you virtual office rental services in the United Arab Emirates to conduct your business. This kind of service is ideal for small companies and startups who want a space to show how reliable their businesses are. Additionally, we can provide you with a wide variety of services that can help you get the right kick to boost your business into success in no time. With us, you can run a successful business without having to pay a high cost.
If you are thinking about changing your business scenario, we have the answer for you. Our company offers you private offices for rent in the United Arab Emirates. With a private office, you can situate your staff members in a place that will help them focus more on their assignments. Plus, you can enjoy seeing how your company finally takes place in a real office space. With our services, you can enhance your operations and see how your company grows steadily. Finally, our main objective is to help you enter the local market and make a strong mark there.