Sharjah Mainland has massive growth projects. This is one of the most business-friendly emirates in all the UAE, similarly, it has become a good destination for companies since the last decade. However, it is important to understand the importance of the growing economic activities in the zone, the business setup in Sharjah, and why investors are looking forward to setting up their businesses here.
In this article, you will learn everything you must about company formation in Sharjah Mainland. In the same vein, you will understand every part of the process of establishing a business in the city and its benefits. However, make sure to understand the requirements and how Connect Group can make this process quick and undisturbed for you. Let's observe:
How can you start a business in Sharjah Mainland?
Standard procedure to set up your business in Sharjah
Procedural steps
Submitting the different forms
What are the benefits when you establish in Sharjah Mainland?
Why establish in Sharjah?
Types of business entities in Sharjah Mainland
How can ConnectGroup help you to set up your business in Sharjah Mainland?

1. How can you start a business in Sharjah Mainland?
Business setup in Sharjah Mainland is an easy and quick process, however, there is a lot of paperwork that needs to be completed. This is overwhelming if you are not familiar with the UAE legal procedures. This is where working with a business consultant comes into play since they will guide you in all steps of this process.
Likewise, business consultancy assistants are experts in all areas of the company registration process in Sharjah and all the UAE. Above all, Connect Group can help you complete these procedures smoothly without any mindless details.
The process of establish a business anywhere tends to be expensive, we have an article about low-cost business setup in the UAE.
Here are all the necessary steps to establish a company in Sharjah Mainland:
2. Standard Procedure to set up your business in Sharjah
Obtain the MOA and company's lease agreement: firstly, you must obtain a Memorandum of Association (MoA), this the agreement between both parties stating the agreement to work together. After that, you must notarize this agreement. In addition, you must find an office space and notarize it too.
Fulfill the necessary documents: after that, you must get together all the necessary documents. However, these could vary depending on the economic activity your company is aiming for. Here is a list of some documents you will need:
Copy of Ejari (Certified tenancy contract)
Passport, visa, residency proof copies, and Certificate of No-Objection letter.
Land map of ownership certificate photocopy
Approval from Legal Affairs.
Letter of approval from the Ministry of Economy.
Approvals from other government bodies if it is required.
Partnership contract attested by a public UAE-certified notary.
Family book copies and National ID.
Signboard.
Technical evaluation report.
Certificate of your trade name.
License fees to obtain a trade license: certainly, you must pay all necessary fees required to apply for your trade license. However, here is a list of the types of business licenses available in Sharjah Mainland:
Commercial License: this is one of the most popular licenses in all the UAE. Companies operating in the different areas of selling and buying of goods apply for this license. Likewise, companies that own this license can operate in Sharjah Mainland and all the UAE territories.
Industrial License: this license is for the various industries that rely on manufacturing, assembling, fabrication, and processing. That is to say, all specialists must have this type of license to work in the UAE.
Professional License: businesses that are involved in the use of people's intellectual abilities apply for this type of license. For instance, this license is available to mechanics, lawyers, consultants and IT service suppliers.
3. Procedural steps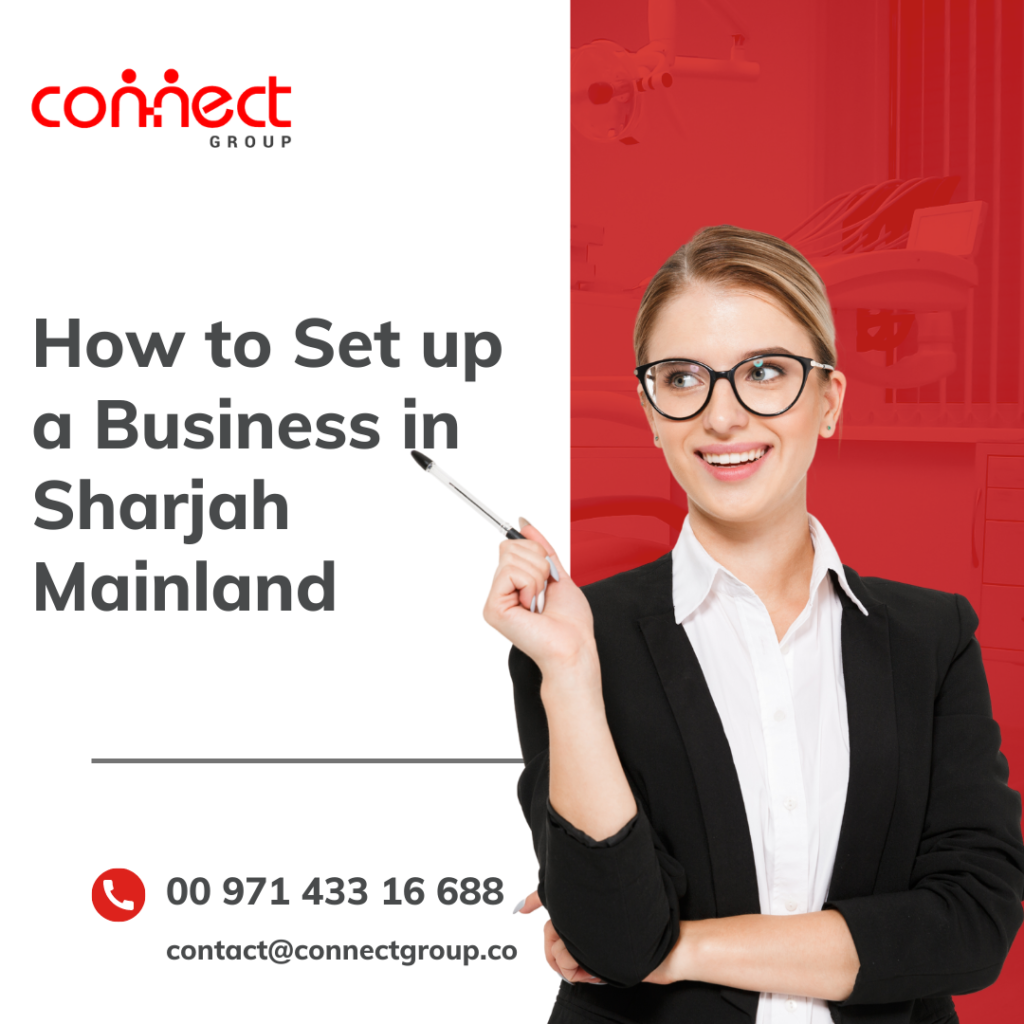 Obtain approval from the trade name board: you must handle 3 different name options and submit them to get the approval. Above all, your name cannot contain indecent or obscene words. However, your name must be unique and cannot stipulate God's name either in English or Arabic.
Apply for an establishment card: in this step of the business setup in Sharjah, you must submit an application for the establishment card. This is done through the immigration authority and you must pay the necessary fees that come with it. To sum up, this is a plastic card that contains all the important information about your organization.
Get approval from the Ministry of Labor: you must obtain a work permit and an entry visa from the Ministry of Labor in order to hire employees.
Get your visa stamped: in this step, you will go through the process of getting a stamping on your passport. Certainly, this is done by your partner or local sponsor.
Determine your type of business activity: before you do this process, you must have in mind the type of business activity you will conduct. However, this step will help you clarify what type of business license you need.
The UAE has different licenses businesses can work with, here is an in-depth article about the types of trade licenses.
Find a local sponsor: you need a local sponsor if you are a foreign investor. This UAE national investor will own 51% of the shares of the business and act as a silent partner of the company.
4. Submitting the different forms
Submit the application forms to the Department of Economic Development (DED): in this step, you must submit your company registration form as well as the rest of the reports.
Apply for your license: now you must file your trade license to the Department of Economic Development.
Trade name registration: after you complete your trade name, you must register it under the Department of Economic Development in person or online.
Approval from the municipality: you may have to obtain other approvals; this depends on your type of business. Certainly, after you paid all the necessary fees and handed in all the documents, you will receive your business license in no time.
Learn More About : Professional PRO Services for Businesses in Dubai
5. What are the benefits when you establish in Sharjah Mainland?
In the last years, the economic activities of the city have been growing massively and; therefore, attracting foreign investment and entrepreneurs from around the world. Due to the increase of business establishments in the state, the government has taken certain steps to provide several advantages to entrepreneurs and investors establishing in Sharjah.
Here is a list of some of the advantages business owners can benefit from when they establish in the city:
No mandatory audits: business setup in Sharjah grants business owners the benefit of getting rid of yearly auditing. Since there is no mandatory requirement for audits, businesses can invest their resources and time properly.
No currency restriction: while other emirates have currency restrictions. When it comes to business setup in Sharjah there is no space for this practice that harms the companies of investors. In other words, a business can conduct voluntary audits if the managers think it will have benefits for them.
Easy office renting: company setup in Sharjah is easy since all businesses can rent an office anywhere in the mainland area. Certainly, an office is a place where customers interact with the company about if they can avail the services they need. However, a business must establish its office spaces at the location where they think it will have benefits for them in accessing resources, raw materials and various markets.
Unlimited visas: as the company is growing, the requirements and size of it increase. The advantage of having several visas will allow the business to access manpower resources from around the globe.
Minimal taxes: business setup in Sharjah grants companies to not pay taxes such as corporate and income tax. However, companies only need to pay is the Value Added Tax (VAT).
Repatriation: foreign investors own 100% of the company they established in the emirate.
Read More About : How to Setup Business in Abu Dhabi Mainland
6. Why establish in Sharjah?
Sharjah is one of the safest cities in the world for investors, being pro-business and pro-enterprise has put this city at the top. The city's economy is liberal with competitive property lease rates and fee structures. Likewise, there is a huge presence of a skilled bilingual workforce in the city. In other words, there are a few reasons why investors decide to establish into Sharjah Mainland:
The pro-market nature of the city acknowledges the importance of trade, manufacturing and services sectors to support the country's economic plans. Therefore, the city has several policies that encourage foreign investment.
This Emirate has a growing economy and is one of the most profitable destinations attracting foreign investment not only in the UAE but also worldwide.
The practice of business extension in the city stays useful because it highlights preserving friendly ties and economic mercantilism relationships with important countries from all the continents.
The city has a plan for deposit facilities whenever investors and entrepreneurs want to collect their product for up to 2 months without additional cost.
Sharjah Mainland has a modern communication system and a strong presence of international and native banks.
If you want to keep reading, learn about the different steps when you are starting a business in the UAE.
7. Types of business entities in Sharjah Mainland
Another key step in the process of a new company set up in Sharjah is to decide your business entity. To sum up, a business entity is a corporate structure your company will adhere to. However, here is a list of the type of business entities allowed in Sharjah:
Limited Liability Company (LLC)
This is one of the most popular types of entities in the city. Likewise, in this type of business, the partnership group must not exceed 50 and not be less than 2. The accountability of the partners is limited to the amount of investment they have in the business.
Partnership Company
This is a partnership between 2 or more individuals. These partners are liable for the number of shares they have in the company.
Local Service Agent
This is an individual company managed by a single person. If the owner of the business is not a GCC or UAE national, there must be a local service agent that is a UAE national.
Public/Private Shareholding Company
These types of entities are determined committed by shares. A Public Shareholding Company has shared capital cut into equally valued shares. However, Private Shareholding Companies are incorporated by more than 3 individuals. This business type cannot go public and invite individuals to invest in its shares.
8. How can ConnectGroup help you to set up your business in Sharjah Mainland?
We are glad you learned everything about the company set up in Sharjah Mainland. Similarly, as we mentioned earlier; a partner will help you in the different processes you face when you want to create a new business. In case you decided to contact us to help you, we will grant you the best professional services to ensure your company's growth such as:
Business consultancy.
HR outsourcing.
Visa services.
Business licensing.
PRO services
Corporate and personal sponsorship.
Certainly, we provide corporate services and business consultancy to all types of businesses in the UAE. Since 1998 we have acquired of experience granting us to give the best services to the businesses we work with. Therefore, we have the best market knowledge that aids companies in the country to grow.
Connect Group is an important business and service hub in the UAE that offers the best-personalized solutions to businesses in Mainland, Free Zone, and Offshore.
If you want to keep learning, here is a guide about offshore company setup in the UAE.
if you want to boost your HR department productivity, you can ask for HR management, payroll and WPS, insurance and attendance services. Additionally, you can use our innovative recruitment services to hire the highly skilled workers you need.
Would you like to contact ConnectGroup to receive more useful information and tips about the process of business setup in Sharjah Mainland?
To sum up, you can get in touch with us to learn more information or if you have any inquiries via contact@connectgroup.co. Or you can also call us on +97143316688, and you will talk to one of our agents who will answer all of your questions.