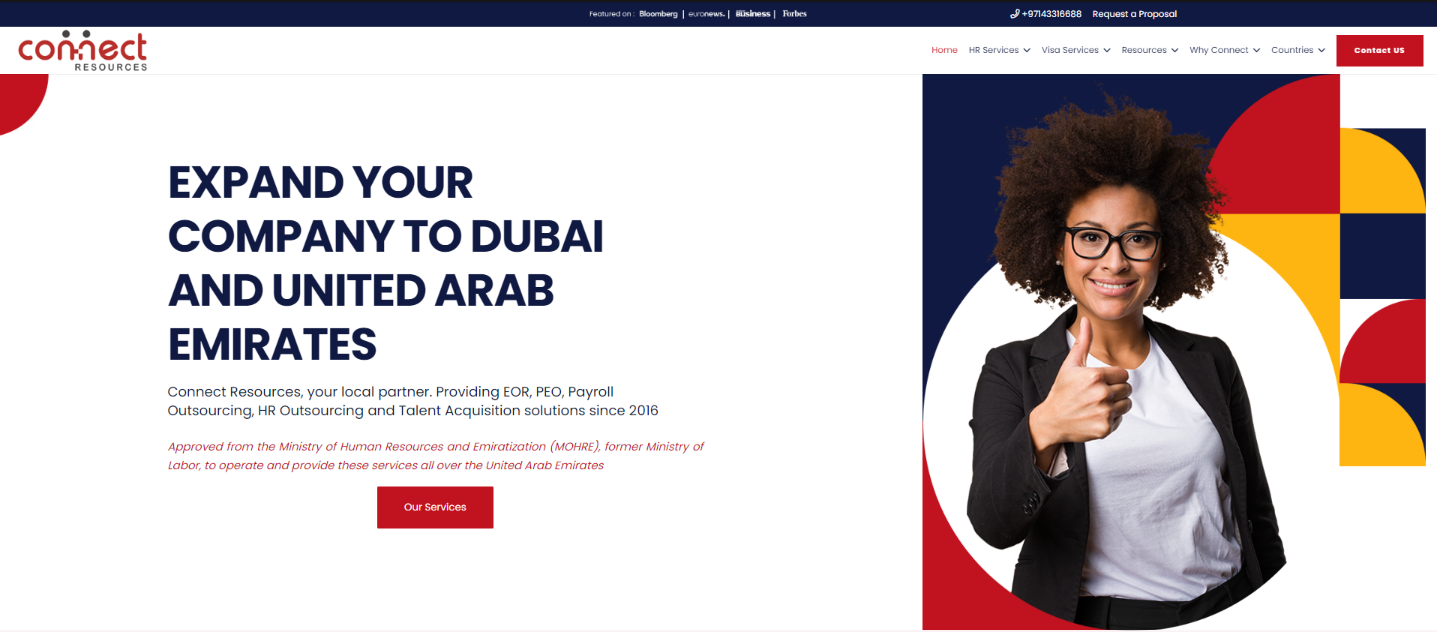 Having professional partners by your side is essential for further business growth
Go to Connect Resources
Discover the

business solution you need for your business.
Requesting the services of qualified personnel means obtaining significant improvements in your company
In Connect Resources we are the UAE's best workforce services company in Dubai and the UAE. In addition, we offer Talent acquisition, Staff Outsourcing, HR, PEO, and EOR solutions to our clients in Saudi Arabia, the United Arab Emirates, Egypt, Lebanon, Jordan, Qatar, Bahrain, Oman, and Kuwait.
On the other hand, we offer exceptional industry insight and the best consultive perspective for both job seekers and partners in order to meet all your HR needs and requirements.
On the other hand, we have more than 2 decades of helping and advising all-sized businesses in the UAE; this allowed us to obtain the best experience we need in order to assist your company.
We have an official alliance of Randstad. We also are the principal staffing and recruitment agency in this beautiful country with a solid presence in Dubai. Further, our comprehensive range of solutions will allow you to solve your business needs while you focus on your business's core activities in the Middle East.
With our top-leading knowledge and insight; we offer a unique consultive approach for both job seekers and employers to assist them to reach their objectives.
We provide a countless list of benefits to you when you partner up with us such as fast hiring, cost reduction, hassle-free, and quick. In addition, we deliver the brightest workers to companies in the UAE; assisting them with government services, work permits and visas, and Emiratization. Therefore, they can bring their foreign workers to the new market.
You can trust our team of experts; they will be available 24/7 for your inquiries or support. In other words, we want you to have rapid business incorporation; this way you do not waste valuable time in tedious government procedures.
Above all, you will start focusing on your business's core tasks with our help in areas such as IT services, payroll, and HR tasks.