A coworking space Dubai is becoming increasingly popular in this city in the UAE. In case you are looking for the best coworking space in Dubai, you must take into account what your needs and preferences are. That is why you will need a complete guide on how to find the best office spaces in the city. It is important to know the different factors that you should consider when choosing a coworking space. For instance, location, price, and available amenities.
In this article, you will see everything you need to know about a coworking space Dubai. The idea is to analyze the benefits, types of coworking spaces, and many other things. Additionally, we will discuss the advantages and disadvantages of coworking. We will also provide useful tips to make the most of your experience in a coworking space Dubai.
Top 5 Reasons to Choose a Coworking Space in Dubai for Your Business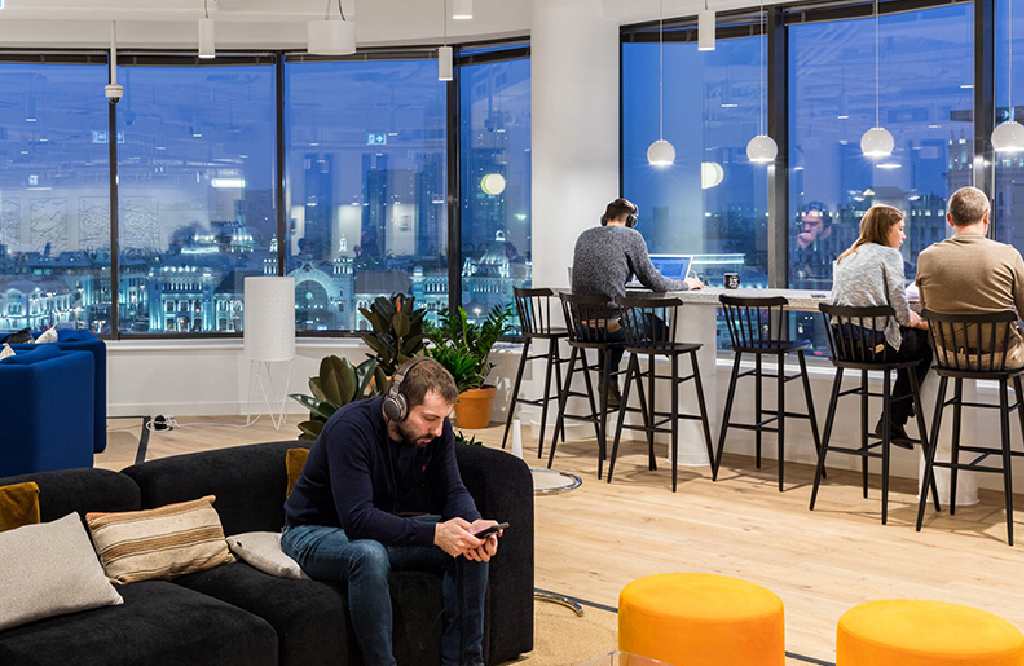 Due to the dynamic work environment currently seen, coworking spaces UAE have emerged as a turning point for professionals. Furthermore, this can be seen more closely in Dubai, which is a hub of business and innovation. For this reason, we will present 5 reasons for you to decide to choose this very productive dynamic.
A Coworking office space Dubai offers a great solution to companies that want to establish themselves in this metropolis. In addition, its spaces are strategically located in the most prominent commercial districts in the city.
Another reason is the diverse community of professionals they can attract. This way, you can work alongside like-minded people from different industries. Managing to improve opportunities to establish contacts, foster collaborations, and the exchange of knowledge.
These spaces offer you an environment that is specifically designed to boost productivity. Additionally, they have workstations that are comfortable and ergonomically designed. Have motivated colleagues with a shared commitment to personal growth to grow your business in the UAE.
In today's era, remote access to the workspace has become vital for companies and professionals. For this reason, many coworking spaces in Dubai offer virtual access to their offices. In this way, professionals will be able to access their workspace from anywhere in the world.
These spaces satisfy the different needs of professionals since they offer a wide variety of workspace options. Additionally, the spaces encourage collaboration, socialization, and networking and create an environment that encourages innovation.
What are the types of coworking spaces in Dubai?
You can find that coworking spaces come in many shapes and sizes. Additionally, there are many considerations to make when searching for locations. For this reason, if you want to find coworking space you must know the types of these that exist.
Open workspaces: These spaces are usually synonymous with the term coworking since, traditionally, this is where coworking began. These generally have dedicated desks or hot desks, where members of different companies share common areas.
Private workspaces: These spaces are totally opposite to the previous ones. These spaces take the form of an office or custom suites that are built specifically for large goods. In this way, company members share the dedicated room or a combination of different areas leased or rented by the company.
Industry Specific: These are spaces that serve members who work in a common industry. For example, there are coworking spaces that are created specifically for creative professions. Additionally, these spaces can offer a combination of open and private work.
Companies/incubators: These are among some of the most selective coworking environments. For this reason, its objective is to attract and finance companies by providing them with the necessary support to grow.
Startups
Nowadays, coworking spaces are no longer a new and strange concept. This can be evidenced by its growing popularity. As a result, it can be seen how much office culture has changed in recent years. Coworking spaces in Dubai are generally frequented by freelancers, small businesses, startups, and any type of professionals.
In the case of startups, a coworking space Dubai can provide a flexible and profitable way to get started. Additionally, they offer a sense of community and collaboration, which can be helpful for startups. Especially, those who want to take advantage of business opportunities in Dubai. Some locations may be conducive to fostering these feelings of contributing to the community.
In addition, you would have access to different enjoyable activities on available equipment. For example, a recreational table, foosball table, or pool table. Most startups and small businesses do not have access to their own office space. This is why the most profitable solution is a coworking space Dubai.
The best recommendation for this type of person is to learn how to find coworking space in Dubai. To do this, you have to contact a good business center that provides you with all the public services of your interest. Additionally, it is important that you have access to a vibrant work environment that ensures that all team members are motivated.
On the other hand, not only do startups make use of a coworking space Dubai, but many large companies opt for this option. There are many strategic reasons why this happens. For instance, if a brand is expanding into a new region, it may choose to rent this type of office. Of course, temporarily while it establishes itself in the local market.
Freelancers
Many freelancers start working and end up merging family and work life. The reason is that they end up creating an improvised workspace in homes. For example, the dining table or a spare room. For those cases, a coworking space Dubai will provide you with a modern and inspiring work environment. This way, they can forget about the boredom of being at home all day.
Coworking spaces in Dubai provide freelancers with a professional and productive work office. Additionally, they offer a variety of services and amenities. For instance, high-speed internet and meeting rooms. Some of these may be more useful than the self-employed house.
There are even some coworking spaces in Dubai that offer entertainment facilities. For example, gyms or dining rooms. Which can attract many benefits for freelancers who need them as a means of distraction between projects. Additionally, some desks are designed especially for independent workers. Especially, for those who want to focus on their to-do lists.
Generally, these provide comfortable coworking rooms, sociable breakout areas, and fun regular events. As a result, you will be able to access multiple opportunities to expand your professional networks.
On the other hand, some freelancers are business professionals and are constantly traveling. For this type of people, a coworking space Dubai can be very useful. The reason is that they provide an environment in which they can concentrate and guide their business. Unlike, for example, an average coffee shop where you do not have access to the same level of concentration.
In addition, coworking spaces allow these traveling business professionals to rest and, in turn, dedicate full and uninterrupted time to their work.
Remote workers
Workers who are new to remote or at-home work may find themselves making the sudden difficult transition from office life. For these cases, a coworking space Dubai may be your best option. These offices provide the perfect springboard to better adapt to the new way of working.
Coworking spaces can provide remote workers with more optimal work scenarios. That is, they have access to a change of spaces and a place to connect with other professionals. Plus, they provide a better, quieter place to do work obligations. Thus, you can avoid all the noises that you may find in the home from all your family members.
By having access to an exclusive workspace separate from family life, remote workers can make distinctions between aspects. That is, the employee can enjoy working in an office environment while still rejoicing in the ease of life. In addition, it has greater flexibility and networking opportunities.
In Dubai, there are exclusive coworking spaces that are ideal for working alone. Additionally, in many cases, they provide cafeterias that will provide the necessary energy for long work days.
For example, a very common type of remote worker today is a consultant. These professionals have long been trying to adopt a transitional work style. That is, a coworking space Dubai is ideal for these remote workers. Generally, consultants need offices where they can receive their clients. The best advice is to have elegant and modern meeting rooms. Additionally, they have to have a reliable internet connection and other IT facilities.
It is important that you contact a good business center that provides you with a coworking space with all these services.
What Are the Benefits of Using Coworking Spaces in the UAE?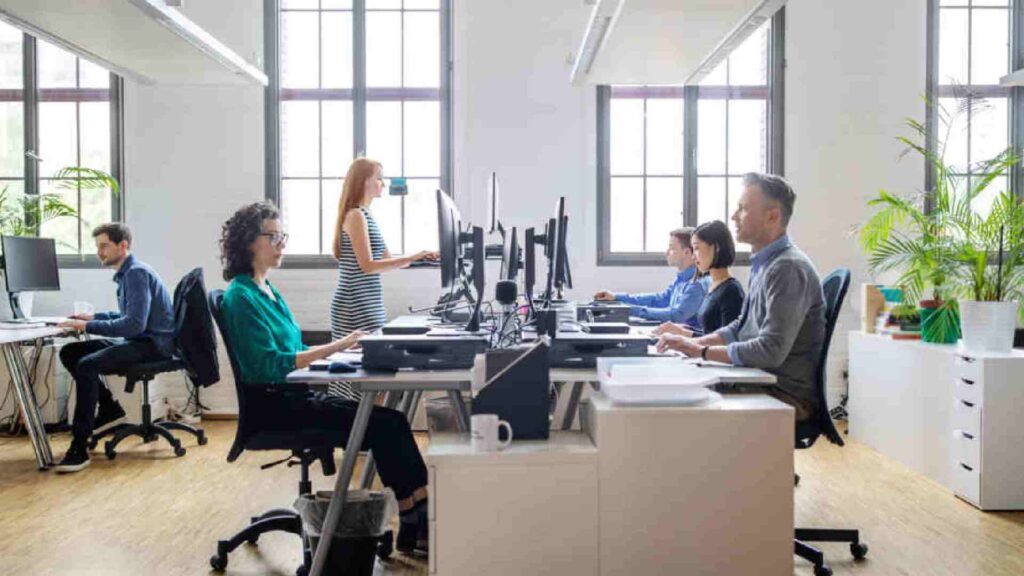 Coworking spaces in the UAE offer a series of benefits for companies and professionals. One of the main benefits is budget simplification and cost savings. People who use a coworking space Dubai can avoid the high costs associated with renting offices. In addition, you do not have to spend on office maintenance which increases savings.
Generally, people who rent this type of office space do so because they have changing needs. Therefore, they look for aspects such as flexibility in leasing terms. In addition, these businesses or individuals need access to a strategic location, which they can obtain with coworking spaces. Most of these are located in central areas and with good communication. As a result, you will be able to access potential clients, commercial services, and suppliers that will help business growth.
Next, we will show you what benefits you can access if you decide to purchase a coworking space Dubai. Thus, you can understand how useful they are, since you can be part of a vibrant and up-to-date business community. As a result, you can open doors to new and better opportunities and collaborations.
Flexibility and Cost Savings
You should know that a commercial office in Dubai can be extremely expensive. If you desire to be located in the city's heart, this advice will be helpful. Additionally, you will have to pay for taxes, bills, appliances, furniture, equipment, and other liabilities. However, a Dubai coworking space usually has all these services. That is, they are delivered to you furnished and equipped with everything you need. As a result, you can access all the important facilities at relatively affordable prices.
Generally, they offer all the services that a company needs. That is lockers, Wi-Fi, printers, conference rooms, scanners, cafeterias, and many more. Of course, everything will depend on your work activities and what you need for your comfort. Depending on your needs, you can hire a fixed space, or a desk for variable periods. For example, a week, a month, or a day. The choice will depend on your business requirements and needs.
It is important to mention that each business center will provide you with packages that adapt to your business needs.
Cost-effectiveness
Coworking spaces are often preferred by some companies because they are more profitable than traditional office spaces. Especially, in the city of Dubai, you can find extremely high rental prices and they continue to rise.
Generally, a traditional office space can be extremely expensive. Especially, nowadays when properties are constantly increasing in Dubai. Working in a coworking space Dubai, apart from being extremely profitable, provides the opportunity to expand the company. Of course, without having to pay the high costs of canceling the lease.
However, it is important to consult with a trusted coworking space service provider. The idea is that they can help you get the best space at reasonable prices to start your business or work.
Community
You should know that Dubai is a center for startups, entrepreneurs, and freelancers. Therefore, these coworking spaces attract these types of groups or individuals. This is a great advantage because they can join and increase their contacts and networks.
If you know how, you can always boost your networking and maintain social connections. A good option is to use a coworking space Dubai. They will help you create a community of people and businesses which can be beneficial in increasing connections and networks.
Plus, you can get assistance and support when you need it. Another advantage of these communities is that you can quickly contact their expert friends for help. If necessary, looking for recommendations or inspiration. Coworking spaces tend to attract smarter minds and experts in a wide range of professions.
Amenities
Most coworking spaces in Dubai offer a variety of useful services and amenities for companies or individuals. For instance, high-speed internet, cafes, and meeting rooms. The reason is that you avoid working through the daily traffic that exists in Dubai. The reality is that you can get all the amenities you need in this space.
How Connect Group Coworking Spaces in Dubai Help You?
With Connect Group you can get coworking spaces that have a flexible and affordable solution for your office configuration. No matter what type of space you need, Connect Group has a wide variety of options for you.
In addition, the spaces are fully furnished and will offer you a complete corporate infrastructure. It will even have business-quality Wi-Fi, air conditioning, a kitchen, and much more. When selecting the coworking space with Connect Group, you will also have access to other services. For example, human resources services, legal services, etc.
Connect Group has more than 5 years of experience helping corporate companies meet all their needs. For this reason, if you wish to contact us for more help, you can do so at +971 43 316 688 or by writing to contact@connectgroup.co.
Final Thoughts
This article has explored the different factors that you should consider when looking for the best coworking space in Dubai. Taking into account everything from the location to its price and the amenities it presents, it is important that you take into account your needs and preferences when making a decision.
Additionally, we have looked at the amenities and prices that coworking spaces can offer to help your decision. They even talked about the advantages of choosing these spaces for your company. For this reason, it is important that you consider all the aspects mentioned in the article before choosing a coworking in Dubai.
Remember that the needs of companies are different from each other and the coworking spaces indicated for another company are not necessarily for you. For this reason, take the time to choose the coworking space that best suits you.