Hire the

brightest remote workers hassle-free
Since the start of the COVID-19 pandemic, the Ministry of Human Resources and Emiratization (MoHRE) of the UAE issued various policies and regulations and public and private companies must follow them. In Connect Group we assist you to hire remote workers in Dubai easily and hassle-free.
In the same vein, the MoHRE is recommending companies to apply to the new remote working system for the rest of their workers. Similarly, when the business applies to the working system, they must supply their workers with smart electronic applications, IT support systems, and everything necessary to continue the operations, but working from home.
This way, your business ensures the continuity of businesses in the UAE. But as a company, you must evaluate which jobs can be done full-time remotely and which ones may require it partially. That is to say, among these new regulations is the limit on the number of office-based employees to 30% of your total workforce.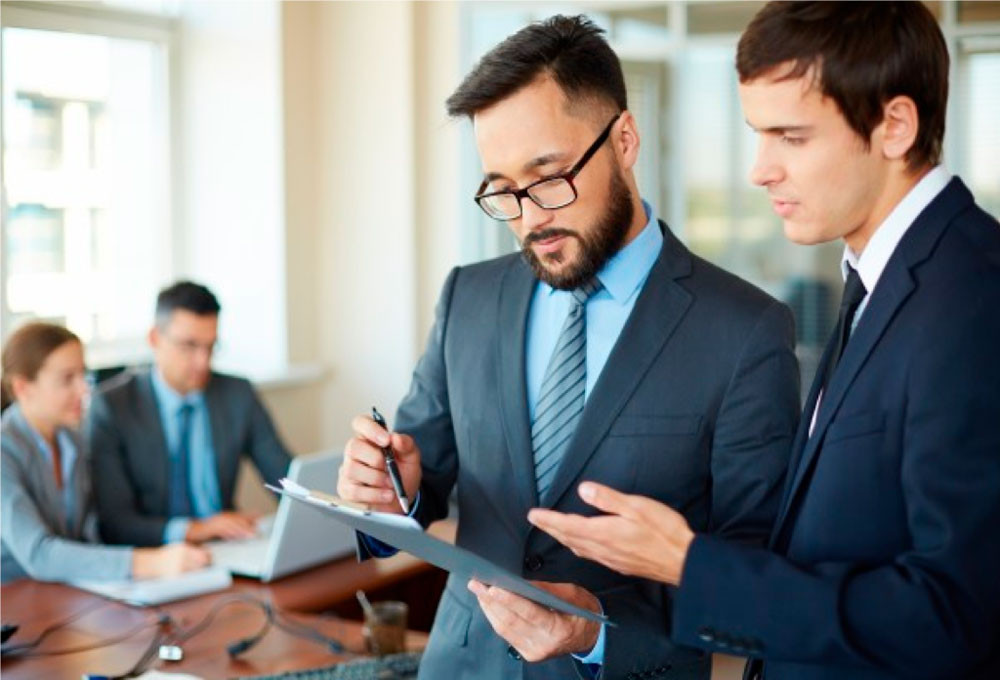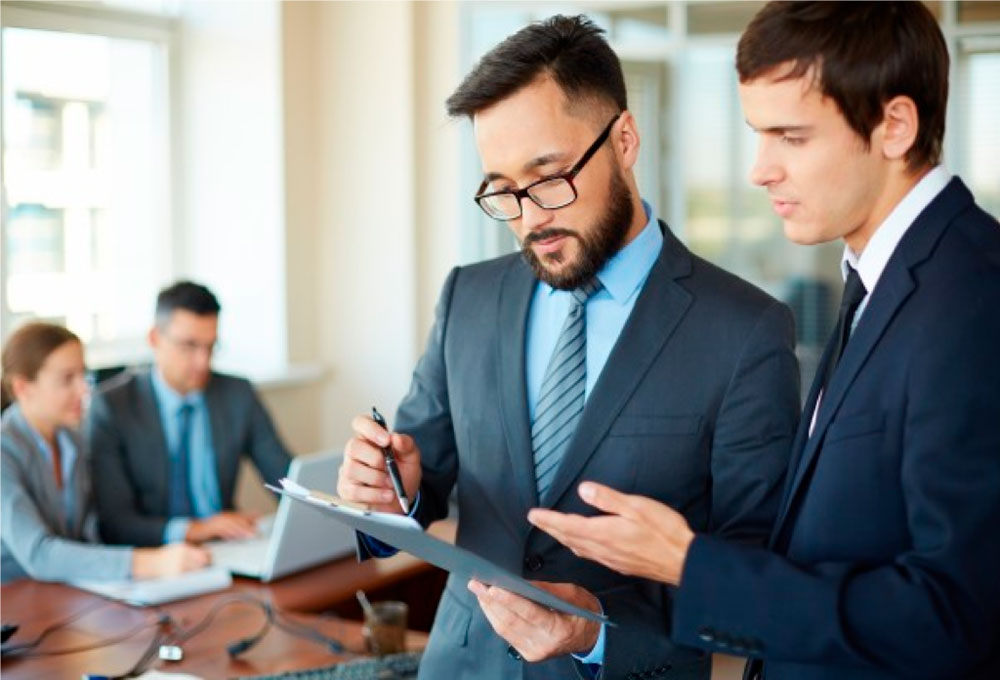 With us,
you will obtain the best solutions
We have your requirements covered in the compliance and legal areas such as employment and tax withholdings.
You do not need to worry about your remote payroll. In Connect Group we automate the whole process; this way you pay your team on time ensuring compliance.
With our assistance, you can have compliant employment contracts for your remote workers while staying compliant with the employment and labor laws.
Discover more about our
We are here to assist you in this process
One of the best aspects of hiring remote workers in Dubai is that you do not need to worry about finding local talent that suits your requirements. In other words, this is something complicated to achieve since you are not limited to a physical presence; therefore, this increases your chances of finding the best workers.
With us, you do not have to limit yourself within the physical area you are operating in; in Connect Group we will assist you to find the best remote workers located in any place. In addition, with its system, your business has the opportunity to scale down or up whenever you need it. Similarly, you can do this for any important project or for a specific time.
In the same vein, you can still evaluate the results in order to determine if the decision was good or not. Likewise, the best part is that you can always scale back as you were, to your original team size; so, our remote workers' service is good for doing tests, especially in today's world where you do not know how much you will be working remotely.
During this time, many organizations have decided to cut expenses to maintain good revenue and to go negative. Therefore, if you want to save costs, a remote workforce is the best option for you.
With this option, you do not need to invest in office rentals, office spaces, or any related costs. Further, this helps you to adjust and modify your budget. And if you choose to use our help, you can be sure that we will take care of all your needs; which will assist you to save expenses.
Contact Us
by Connect Group of Companies
We provide you with the best remote work solutions in the UAE
We have the best services for different industries such as:
Employer of Record

Real Estate

Staff Outsorcing

Freelance

Business Center

Company formationn search

Healthcare

Business Consultancy

Tax Consultancy
Connected Employers and Employees
Discover our first-class services created for you
If you are a business thinking about all the possibilities for hiring remote workers in Dubai and the UAE; it is important for you to consider all benefits and advantages this method provides to your company.
In other words, the remote work field has been increasing around the world, even before the outbreak. Similarly, in the UAE, many companies never tried this practice. Therefore, it is important to understand the positive factors and the good side; this way your business can keep working regularly.
When you are contemplating remote work hires in Dubai and the UAE; you may ask yourself if it is the correct choice because it seems like a short-term solution and it is normal, you do not want to affect your organization in the UAE.
On the other hand, we see the remote work option and think how long it will last; even though the restrictions are ending. That is to say, the UAE government established that the remote working practice will continue normally after the pandemic ends for some companies and their workers.
However, hiring remote workers is not as easy as you think, especially if you are on your own. That is to say, a lot of individuals are looking for a remote job, but they may not be suitable for your company. Therefore, in Connect Group we assist you to find the most suitable remote workers in Dubai; this way you can be more productive.
One of the most important tips is to find workers that fit your requirements as well as your business culture.
We have been providing remote workers for many organizations across the UAE. In the same vein, our team of specialized experts will assist you to hire the most highly-skilled workers that suit your company.
After you understand all involved steps in the process of hiring remote workers in the UAE; you will want to onboard the best workers to your company rapidly while complying with all due labor and employment laws. We will assist you to achieve this goal, this way you can keep focusing on your business.
The most cost-effective option in Dubai and the UAE
Our more than 20 years of experience allowed us to obtain a massive experience when it comes to assisting businesses in the UAE. As we mentioned earlier, our team of workers is ready to assist you whenever you need it. With us, you can create compliant contracts for your remote workers while staying compliant with the UAE labor and employment regulations.
Contact Us
We are an unparalleled remote working partner
Grow faster in the UAE
Grow faster in this beautiful country by obtaining the brightest talents you need for your company without any restrictions.
One-stop solutions
From automating your payroll to hiring remote workers; we have all your requirements covered with our comprehensive solutions.
Hire easily in the UAE
Hire and onboard remote workers from anywhere in the world from different cultures and practices, quickly, and hassle-free.
Reduce overhead costs
Office rents can make an enormous cost for small companies in the UAE; especially during economic downturns. In addition, there are other various costs included in the expenses such as furniture, cleaners, office supplies, and workers' compensation insurance.
Increases worker retention
Having the opportunity to work from home increases worker retention rates. That is to say, the opportunity to avoid the commute is a massive benefit to the most current and potential workers in the UAE.
They are more productive
Remote workers in Dubai can focus on their work without office distractions. In addition, some employees love working remotely. For instance, a flexible schedule and the opportunity to work from anywhere are the biggest benefits.
You can hire them from anywhere
Hiring remote workers allows you to hire the brightest and most highly skilled even if they are from other countries. Meanwhile, in-house workers are limited to the talent you can find within your physical area where the office is located.
Reduces costs for workers
While you will obtain various benefits and saving in this type of business practice, the same is for your workers. That is to say, they can save massively when it comes to food costs, gas, car insurance, maintenance, or transportation.
Saves time for workers
Workers will have a higher quality of life if they cut out the long commutes from and to work. In the same vein, it is not always the best decision for them since there are various factors to consider. For instance, rent costs tend to increase the closer they are to a large city.
We offer you
only the best services
In Connect Group we offer the best remote work hires in Dubai and the UAE. Our team of experts is ready to hire and onboard your new employees and manage all related to taxes, contributions, and payments. Contracting new workers through us is beneficial to companies in the UAE; we relieve the administrative burden on your staff.
Similarly, we will provide you with the best solutions, focused to assist you when you need to hire remote workers in the UAE hassle-free.
One of the best benefits you obtain when working with remote workers is that you obtain a wider range of opportunities that are not limited by your geographic location. That is to say, this is special for companies wishing to get access to the brightest workers that are not in the same city, country, or even the same continent.
Having set a physical location means that your employees will avoid high-mortgage and high-rent areas; especially for positions that require living in a major city with a high living cost.
As we mentioned earlier, your remote employees working from home save massive amounts of money per year. For instance, you can reduce or eliminate car maintenance, gas, parking fees, a professional wardrobe, or transportation from your spending entirely. In addition, these savings add up to your workers and put more money into their pockets.
But the savings are not only for employees, while more and more businesses continue to work remotely post-pandemic; they will discover increasing long-term savings. According to research, a standard company can save up to AED 40,000 per year for each employee working from home at least partially.
The best remote
worker assistance in Dubai and the UAE
We work in various industries and positions across the UAE, similarly, we are the connection between your business and the brightest workers. In addition, in Connect Group we understand the complete recruitment, onboarding, and placement process; that is why we have in-depth knowledge in the industries we serve.
With us, you will have the perfect international remote working team without giving up on day-to-day communication, employee IP, worker ownership. In the same vein, you still manage your workforce.
When it is done right, remote work allows companies and workers to focus on what is really important; performance. Unfortunately, sometimes the office environment creates false positives that lead to favoritism and bias. That is to say, coming in early and leaving late may seem like the employee is more productive, but the actual performance is a much better indicator of productivity.
In addition, our massive experience allows us to provide you with excellent compliance, payroll, and benefits. Therefore, we assist you to onboard the perfect remote workers in Dubai, take care of payments, and comply with the employment laws.
Remote workers are happier and more loyal employees. That is to say, working from home in the UAE has shown to provide more time for interests and hobbies, lower stress, and improve personal relationships, among other important things.
Likewise, in addition to personal well-being and health, manager and coworker relationships can be more positive without the politics and distractions of an in-office work environment. On the other hand, approximately 72% of employers say that hiring remote workers in Dubai has a higher impact on worker retention.
That is to say, employees are sticking with the company when they have a remote work option.