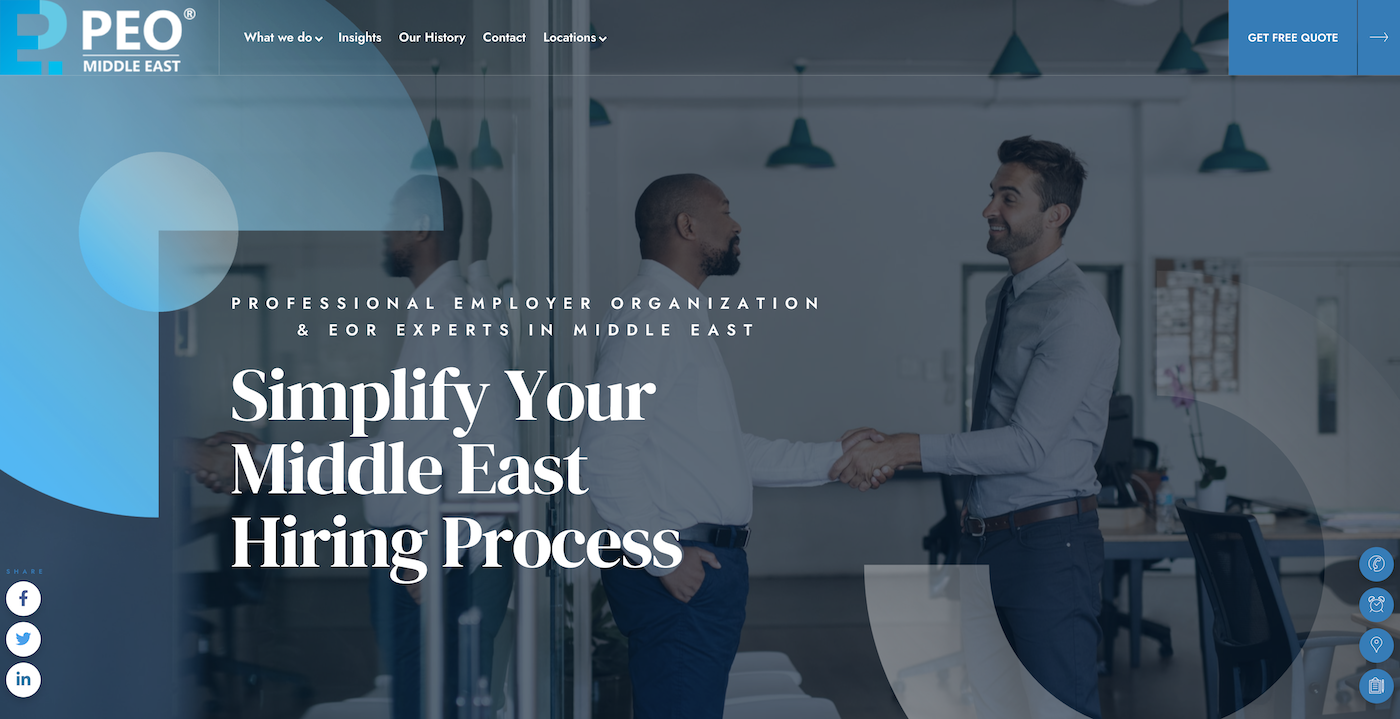 Contact our team and you will receive the high-quality business services that your company requires.
Go to PEO Middleast
Get the best PEO service with

PEO Middle East
Having a comfortable space to work can allow you to operate your company smoothly.
We are a consulting partner ready to assist you when you need. In addition, one of our main focuses is to provide hiring services for your company. Our more than two decades of recruiting experience allow us to help you in all your challenges.
In PEO Middle East we are always present and always there for you. In the same vein, we can assist you to achieve higher growth services that are customized to your business needs.
However, this is usually the case with client-company due to limitations; such as HR management, global immigration, and employer of record. Similarly, we prolong this to hiring ways for more than 6 months, which is sometimes unacceptable for leadership roles.
We have the right experience and knowledge to provide you with the best recruiting services you need. In other words, our business development managers and salespeople are what sets us apart from other companies. Likewise, we have built an outstanding reputation by offering a comprehensive range of solutions suiting your recruiting needs.
Our vast experience years allow us to provide the best onboarding process. Therefore, we want to create the best professional relationship between us.
On the other hand, starting a company does not need to be complicated. Starting it does not require an above intelligence level; you just need to partner up with the best company incorporation company across the Middle East.  Therefore, contracting payroll outsourcing services will give you the assurance that your accounting and payroll duties are taken care of.
In conclusion, our Employer of Record services will allow you to properly enter the Middle East market successfully. That is to say, we can handle your HR requirements while you focus on your business strategies.