Dubai is a growing industrial center, this beautiful city is focusing on becoming an industrial hub for multiple industries. Therefore, this city is giving many opportunities to investors and entrepreneurs for setting up their businesses. Similarly, the city is also promoting self-employed individuals by giving them the opportunity to start freelancing in UAE.
In this article, you will learn why freelancing is the best choice for some individuals and why companies benefit from hiring them. Moreover, you will understand the advantages freelancers have when they are working in Dubai. Likewise, in this article you will learn how to start freelancing in UAE and why it may suit you. Let's observe:
Why Freelancing?
Who can freelance in Dubai and the UAE?
Benefits for freelancers in the UAE
Benefits for Companies Hiring Freelancers
Freelancing in UAE: What do you need?
Top Professions to Work for as a Freelancer in UAE
Part 1
Part 2
How to start freelancing in Dubai and the UAE?
Procedure to Obtain a Freelancer License in Dubai
How can ConnectGroup assist you or your company to start freelancing in the UAE?

1. Why Freelancing?
The practice of freelancing is recommended for individuals who want to be self-employed and do not want to work full-time for other people. This practice widens the opportunities for workers to be their own boss. Due to the covid-19 outbreak freelancing has increased hugely. However, there are several benefits if a worker decides to become a freelancer in Dubai or the UAE
Freelancers are hired on a short or a part-time basis; however, they do not have the same level of time dedication. Why the rise of remote employment, the practice of freelancing has increased massively, especially during the covid-19 outbreak. According to a study by the Freelancers Union; there are 57 million freelancers in the USA.
The practice of freelancing provides control and flexibility to the worker. That is to say, self-employed individuals can choose their hours, their type of work, their clients, and the type of remote work. This is also a form of entrepreneurship; freelancers have total control of their income potential. In other words, freelancers are not chained to an established salary, they control how much they earn.
As an employer you must know what is best for your business, learn the differences between an employee and a freelancer.
2. Who can freelance in Dubai and the UAE?
There are only two career routes individuals are allowed to freelance in, media-related sectors and education. For instance, if you are a screenwriter, journalist, PR specialist, actor, education advisor, eLearning advisor, researcher, or you are in any of those related industries you can apply for this license.
In early November of the year 2020; the ADDED (Abu Dhabi Department of Economic Development) made a public announcement that UAE non-residents and residents can apply for the new Freelance License. This measure is aiming to generate more job opportunities in the country and will diversify the business sector in the city.
Freelancing may seem like a complicated process at first, but it does not have to. We have an article about 5 things you must know before to start freelancing.
Freelancers can practice 48 new different types of businesses in Dubai, before the new measures, licenses were issued to UAE nationals only. However, this license grants businesses to tap into the expertise and experience of the local market and give employees the flexibility to work remotely. Individuals don't need to work in an office space and can apply for residence visas for themselves and their relatives.
Applicants must prove their specific relevant skillsets to apply for the license; if the freelance activity is like their employment role. However, applicants need permission from their employers before applying for this type of license.
3. Benefits for Freelancers in UAE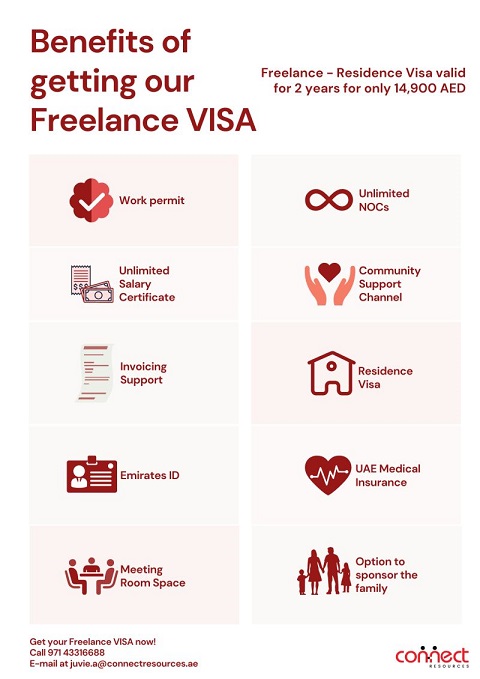 Flexibility
With flexibility over the workload and the clients, freelancers have balance in their work-personal life. If you want to work only part-time during the summers or if you want to work full-time most of the year, you have the opportunity and control to make that decision.
Independence
Freelancers have total independence. Not only do you get rid of the 9-to-5-cubicle type of work-life but you also can choose where to work wherever you feel comfortable.
Control of Workload
Another advantage of working as a freelancer is the option to choose your workload. Likewise, you can work as many hours as you want, and in addition, choose the projects that are important to you. You will focus more on the work you want to do without the distractions a full-time job has like; office politics, distractions, meetings, among others.
Freedom of Clients
Freelancers, being their own boss have the important ability to select the clients they want to work with. They also have the ability to choose to work with only a few or many clients.
Exposure
Many jobs offer their employees variety, similarly, working as a freelancer gives you the means to work on a variety of topics and projects. Working for only one company may not give you experience in other career areas and other industries. This variety may help you create a less redundant and boring environment.
4. Benefits for Companies Hiring Freelancers
In 2021, workforce as we know it is evolving rapidly. While the eight-hour workday is still a common practice, modern workers are choosing more flexible job agreements. It is not hard to see why workers from all over the world are moving towards a freelance setup; freedom and autonomy.
However, working with freelancers offers massive growth offers lots of growth for companies too, here is a list of benefits when you have freelancers in your business.
Cost-effective: this is perhaps one of the main reasons why businesses hire freelancers, they are more cost-effective than a full-time worker. In other words, the assignment is not routine or is only a one-time task. Therefore, freelancers execute the job and get pay whenever your company needs them.
Access to highly-skilled talent: freelancers are highly specific professionals, many of them have years perfecting their craft, top talents in different industries are not tied to bureaucratic entities, instead, they rather work on their own terms. So, if you are looking to hire someone with experience in their industry, freelancers may suit better for you.
In ConnectFreelance you can find the best freelancers you can find in Dubai and across the UAE.
Better work quality: Freelancing is proving that people do not need to be physically present in the company to produce great work. In addition, freelancers are more incentivized to perform better because they thrive with different referrals and clients.
Diversity: freelancers will bring a new perspective to your company, they make up a diverse population of employees, their varying different work style, their ethnicity, and educational background. Likewise, you also have the option to use a global manpower service because freelancers perform from all over the globe.
5. Freelancing in UAE: What do you need?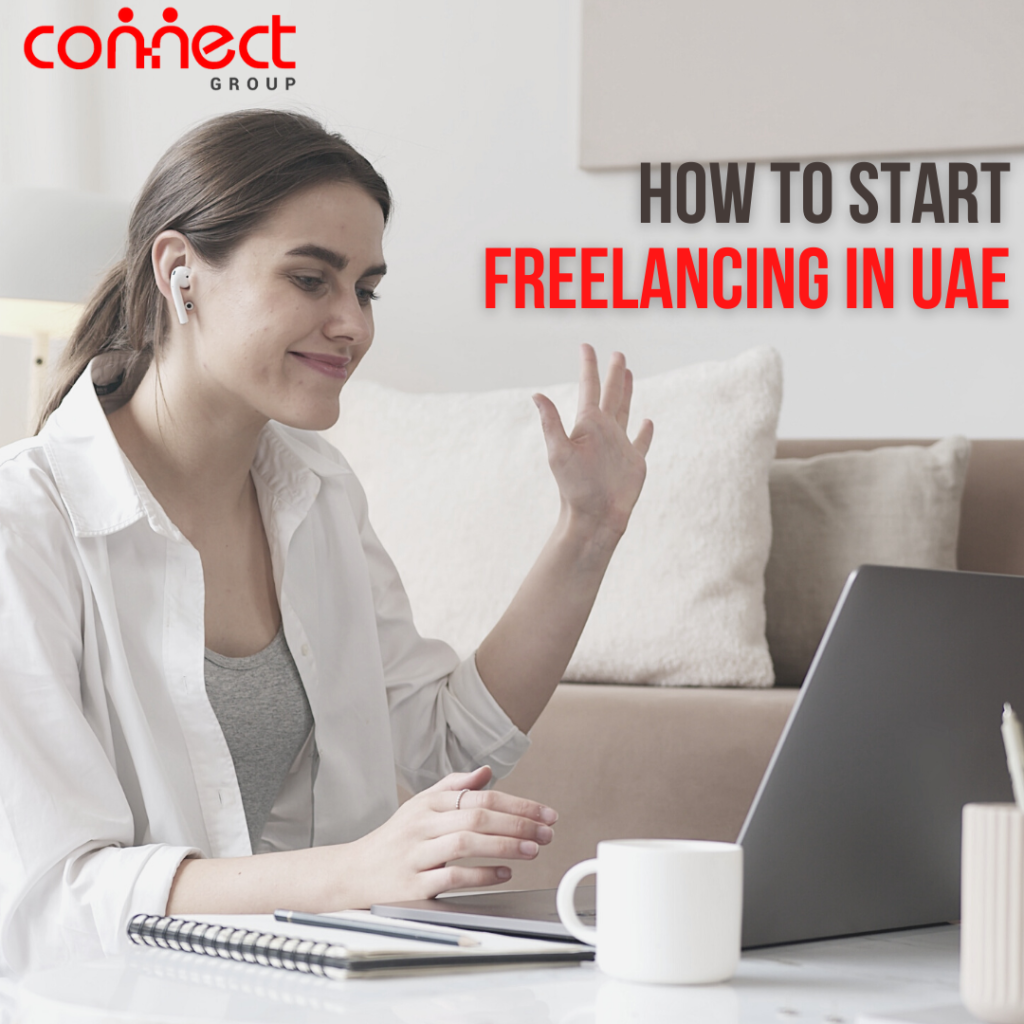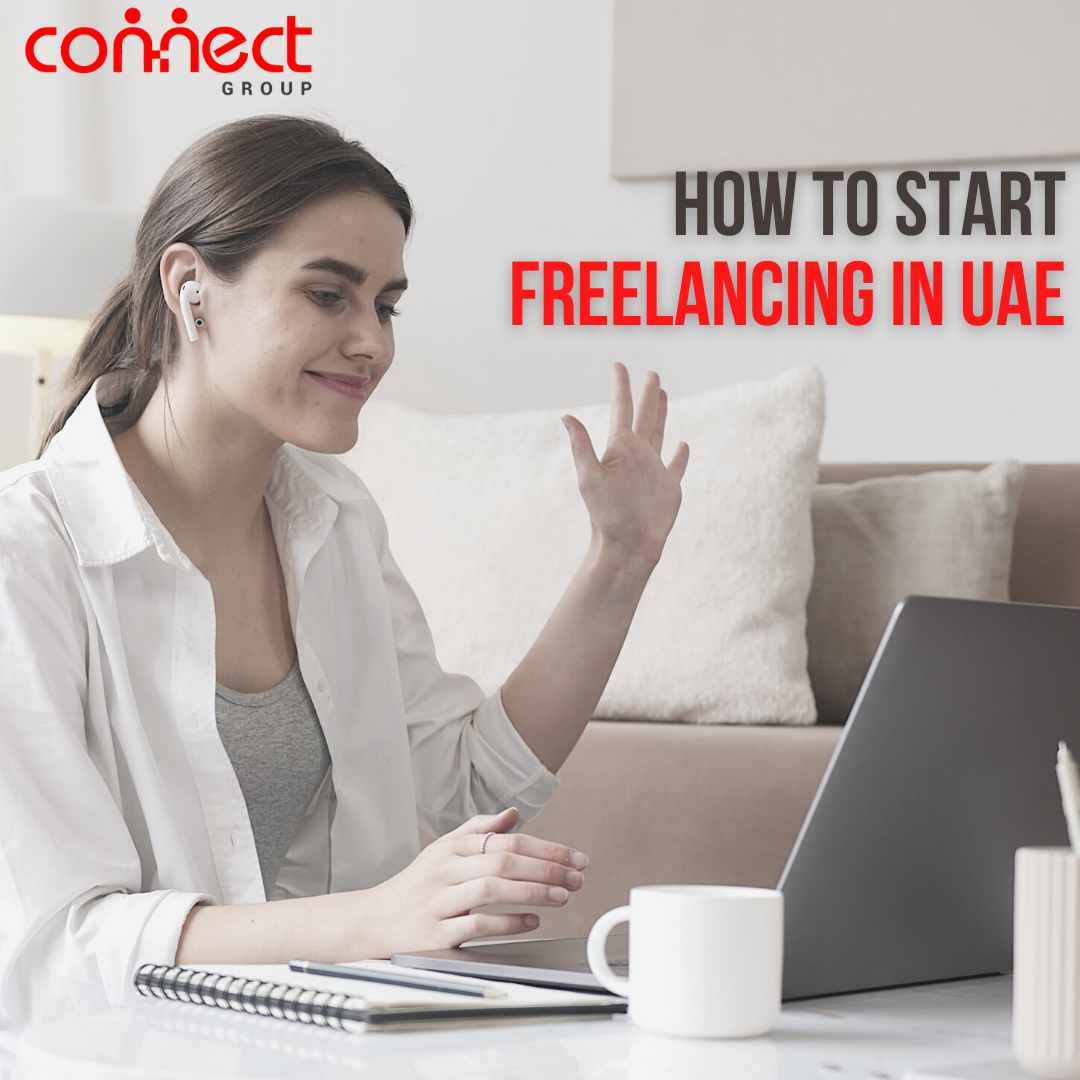 How to start freelancing in UAE may seem like a complicated process, but the truth is that Dubai and the UAE have many advantages. Dubai is a multicultural city on a mission of finishing several projects.
This creates several opportunities for entrepreneurs and investors to establish their businesses in Dubai. That is to say, the city wants more and more professionals and experts to work as freelancers to meet the project deadlines efficiently and at a speedy pace. In addition, the city is giving the opportunity to self-employed individuals to build their brand and set up their business in Dubai and the UAE.
6. Top Professions to Work for as a Freelancer in UAE
The thought of working at one's best time has immersed a huge range in the pass of time. However, it has been applied to each profession. Likewise, some of the top freelance professions in Dubai and the UAE are listed below.
7. Part 1
Babysitter: parents usually need to call freelance babysitters to pick up their children while they are at work. However, many families in the UAE hire full-time nannies and sponsor them; likewise, there are some options for part-timers if they have a visa. Applicants may earn up to DH800 to 5,000 per month.
Personal Trainer: these health professionals are very popular in the UAE. However, they dominate the IG's health space. Similarly, it is a well-paid job even it is a common profession. The potential income under this type of activity is DH30,000 to DH40,000 per month.
Tutor: in order to offer tutor services, you must have a residence visa, provide you are qualified and permission from your sponsor. However, training adults and tutoring is allowed under all the UAE free-zone licenses. Tutors usually charge hourly, they charge up toDH350 to 660 depending on the academic stage of the child and their qualifications.
Journalist: these types of freelancers are paid by full shifts, or by the word. For a full 8-hour day, their expected income is up to DH800 to DH1,100 depending on timings and experience.
In case you want to keep learning, we have an in-depth guide to find jobs in the UAE.
8. Part 2
Interior Designer: this industry is rising in the last few years, it is not a surprise, people are spending more time at their homes and need a place for their children to study or a home office. Moreover, in area remodeling or smaller projects, designers usually charge up to DH3,100 and DH8,100; bathrooms are more expensive than bedrooms.
Life Coach: these coaches help people when they are stuck either in their careers or their personal life. LinkedIn reported a 2007% growth for life coaches demand in 2021 compared to 2020. However, life coaches charge up to DH3,000 per hour.
PR professional: freelance junior executives are hired on a monthly basis to work on specified projects, they charge up to DH6,000 per month and can go up to DH14,000. However, experienced PR and marketing professionals may demand a daily rate of DH3,000 to DH5,100, depending on the requirements of their client.
Hair or Make-up artists: self-employed artists have gained the benefits of the beauty salon boom, with the need free-zone assisting them to work in Dubai and the UAE. Likewise, stylists earn depending on the client. The pay at photoshoots may vary from DH1,100 to DH3,100 for a 9-hour day.
Web Designer: the rise of technology is pushing businesses and companies to have a digital presence; this leads to a massive growth market for web developers. Similarly, depending on the type of website can vary; for instance, e-commerce ranges from DH8,000 up to DH24,000 and can take approximately 4 weeks of work.
9. How to start freelancing in Dubai and the UAE?
If you are planning how to start your company as a Freelancer in Dubai, you must follow these steps:
Fill the application form for the freelance license.
Submit your business plan.
Provide a copy of your qualification certificates and your passport.
Submit your No-Objection Certificate (NOC).
Provide a bank certificate of a satisfactory bank record.
10. Procedure to Obtain a Freelancer License in Dubai
You must acquire a UAE freelance license to start working as a freelancer in the country. Here are the steps to get a freelance license in Dubai:
Apply with a free zone.
Submit an application along with a copy of your passport along with the application.
After that you will receive a confirmation letter, you must sign it and submit it back.
Pick up the certificate approved by the UAE free zone.
Freelance licenses in Dubai and across the UAE are issued within a week to 10 working days.
However, we have a detailed article about the Freelance Visa's cost.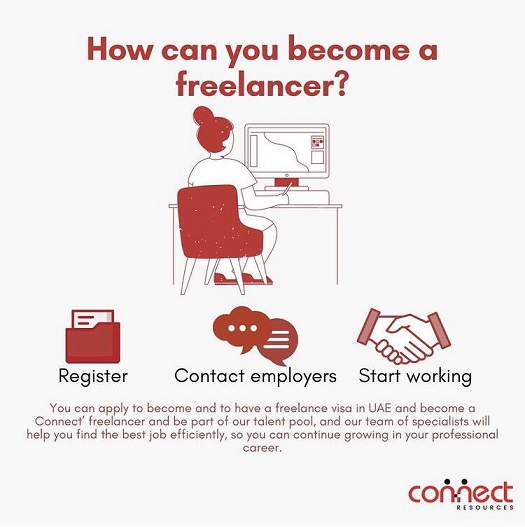 11. How can ConnectGroup assist you or your company to start freelancing in the UAE?
Now that you are aware of how to start freelancing in UAE and in case you decided to become a self-employed individual. You must choose a business partner that suits your company. Finding a good partner is one of the most important steps, this way you will start benefiting from working in Dubai and the UAE.
We work closely with local authorities and government departments; we have several years of experience and we have obtained huge market knowledge that help`s all types of businesses in the UAE to grow.
ConnectFreelance is part of ConnectGroups, therefore, you can discover all our services are focused on improving your company and allow it to grow and expand efficiently and quickly. Some of our services include PRO services, bank account opening, and many others.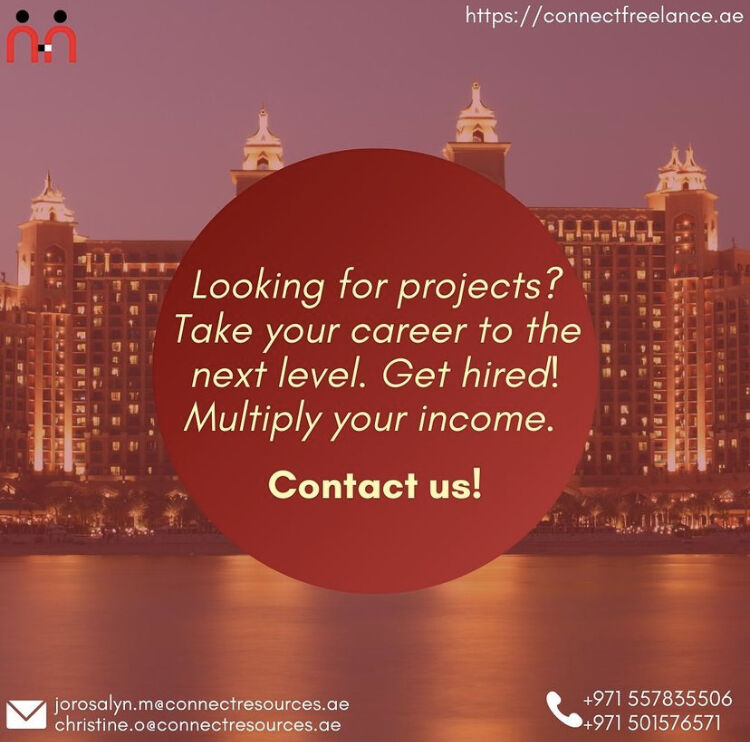 We have been proving to be one the most innovative business consultants in the UAE in two decades. Likewise, we provide the best business setup that will help your new business.
After you apply for a freelance license, you may want to request our services to improve your organization. For instance, you can try our innovative recruitment services and find the employees you need using our revolutionary ways. Or in case you want to improve your Human Resources processes, you can ask for HR consultancy and payroll services.
Would you like to contact ConnectGroup to receive more useful information and tips about how to start freelancing in UAE?
In conclusion, you can get in touch by emailing us via contact@connectgroup.co or if you have any inquiries or you want additional important information. Or you can also call us on +97143316688, and you will talk to one of our agents who will answer all of your questions.