Dubai Expo 2020: Read Everything you need to know
The Dubai Expo 2020 will be one of the biggest cultural gathering events in the world, presenting a visually striking and emotionally inspiring 182 days, as more than 191 countries participate and millions of visitors witness the largest and most diverse World Expo ever.
During 6 months, Expo 2020 will be a very important place to visit, with thousands of events, amazing experiences, and free entry for children.
In the following article, you will learn everything you need to know about the Dubai Expo 2020. Besides, here you will be able to find relevant information about tickets, locations, the history of the World Expo, and what benefits it will bring to Dubai. Let's observe:
What is the Purpose of Dubai Expo 2020?
Dubai Expo 2020 is part of the World Fair, officially known as International Registered Exhibitions, which are a global gathering of nations dedicated to look for solutions to pressing challenges of our time by offering a perspective inside a universal and engaging immersive activities.
In a recent press, a spokesperson of the UN has said "Dubai Expo 2020 represents an exceptional opportunity for the United Nations to attract millions of people and create lasting engagement, for action and impact. The United Nations presence at Dubai Expo 2020 will invite visitors to engage in the important value of multilateralism through the celebration of International Days, thematic weeks, and programming meetings in the Opportunity Pavilion.
With the well-timed power of the United Nations and the universality of its passionate work, the UN programs will highlight the ideas and experiences that unite us as people. The UN events, programs, and International Days at the Expo will inform, inspire and engage visitors to take action towards a successful future for the people in every country.
"The difficulties of the Covid-19 pandemic have shown us the importance of sharing every possible solution and the coordination of our actions". "The time we spend separately leads us to think about the importance of staying together as one, and reminds us that nowadays, even in the digital age, all our shared experiences are the essence of humanity".
What's Dubai Expo 2020 passport ?
Each page of the yellow, customizable passport has a unique number, a space for a passport-sized photo, personal information, and hidden watermarked graphics, ensuring that no two documents are same.
The passport pays tribute to the UAE's founding father, Sheikh Zayed bin Sultan Al Nahyan, with an unique page printed in gold foil and a photograph from 1971, the year the UAE was created.
Visitors attending Expo on December 2 will also receive a unique stamp commemorating the UAE's 50th anniversary.
The Expo 2020 Dubai passport costs Dhs20 and may be purchased at all official Expo 2020 Dubai stores around the Expo site, as well as the Expo 2020 Dubai store in Dubai Airports' Terminal 3 and the expo's website.
Read More About : UAE Project of the 50
Is there a reason the Dubai Expo 2020 is so important?
More than 190 countries will encounter Dubai in a worldwide sharing of culture and revolution. Participating countries have been allowed to set up shop at their pavilion to show the world how their nation is contributing to the critical global debate.
Expo 2020 has three main themes which are – Sustainability, Mobility, and Opportunity – and they will be presented in showcases across three dedicated districts.
Specialized Expos are smaller in size, investments and normally shorter in duration; between three weeks and three months. In the past, World Fairs were called Special Exhibitions or International Specialized Exhibitions but these terms are no longer used officially. Moreover, their total surface area must not exceed 25mt² and organizers must build pavilions for the participating states, free of rent or expenses. Countries pavilions must not exceed 1,000 m2. Only one Specialized Expo can be held between two World Expos.
Why will Expo 2020 will be held in Dubai?
The purpose of any World Expo is to connect countries with innovative and cooperative partnership programs that quicken and promote solutions that improve the lives of the citizens while protecting the planet. On the other hand, World Expos are held every five years.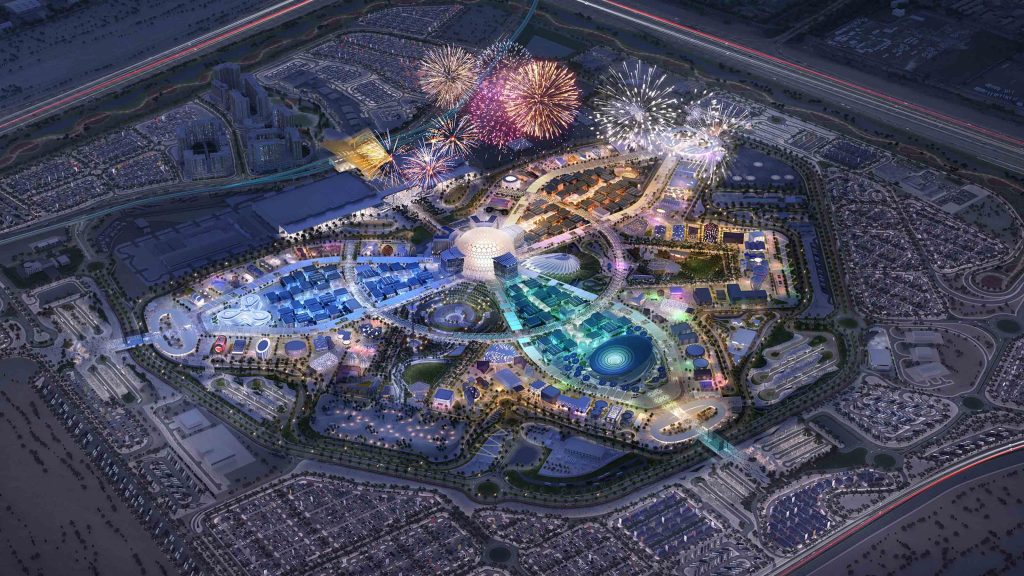 The Bureau International des Expositions supervises four types of International Exhibitions:
World Expos.
Specialized Expos.
Triennale di Milano and Horticultural Expos.
Expos are global events focused around a specific theme addressing important challenges faced by humanity. Gathering nations from around the world, they are the stage for innovations and solutions for humanity.
Why the Expo 2020 is happening in 2021?
Dubai Expo 2020 is starting in a few days and extends into 2022. The opening night is October 1st of 2021, and the show will march through to March 31st of 2022.
The event was due to start in October last year, but the covid-19 pandemic forced organizers to delay the event a year in the interest of safety.
How will Expo 2020 benefit Dubai?
Expo 2020 will increase tourism and economic growth in Dubai, however, the initiative will bring many benefits to the country in the short and long term, by creating opportunities for international business ventures. "Connecting Minds, Creating the Future", Expo 2022 will stand for Opportunity, Mobility, and Sustainability
Where is the Dubai Expo 2020 being held?
The Expo 2020 site in Dubai covers 4.38² kilometers and will be placed in the Dubai South district, close to the Al Maktoum Airport and in the proximity of the Abu Dhabi International Airport, Dubai International Airport, and Abu Dhabi Terminals.
Read More About : Golden Visas in UAE
When will the Dubai Expo 2020 take place?
Expo 2020 Dubai will take place from 1 October 2021 until 31 March 2022, under the safest Covid-19 regulations.
Is this the first time an Expo of this significance happens?
No, World Expos are one of the oldest and respected international events, they take place every 5 years and last for six months.
1851, 1862 – London (England)
1855, 1867, 1878, 1889, 1900, 1937 – Paris (France)
1873 – Vienne (Austria)
1876 – Philadelphia (USA)
1880 – Melbourne (Australia)
1888, 1929 – Barcelona (Spain)
1893, 1933 – Chicago (USA)
1897, 1910, 1935, 1958 – Brussels (Belgium)
1904 – St. Louis (USA)
1905 – Liege (Belgium)
1906 – Milan (Italy)
1913 – Ghent (Belgium)
1915 – San Francisco (USA)
1939 – New York (USA)
1949 – Port-Au-Prince (Haiti)
1962 – Seattle (USA)
1967 – Montreal (Canada)
1970 – Osaka (Japan)
1992 – Seville (Spain)
2000 – Hannover (Germany)
2005 – Aichi (Japan)
2010 – Shanghai (China)
2015 – Milan (Italy)
2020 – Dubai (UAE)
Dubai Expo 2020 Dubai will be the first World Expo ever hosted in South Asia, the Middle East, and Africa (MEASA) region. With our motto "Connecting Minds, Creating the Future", That is to say, we aim to host an exposition that keeps inspiring people by showcasing the best examples of humanity, transformation, and collaboration from around the world.
How much are the tickets Prices for Dubai Expo 2020?
Ticket costs may vary, a single-day ticket for adults . For instance. tickets purchased before March of 30th, 2020 will be reprinted to keep validity for the new dates. However, new tickets holders will be able to enter the Expo whenever the event starts. 1-day tickets will be valid for single use; 3-day Tickets will be valid for 14 days from the date of first use; all Monthly Passes will be valid for 30 days from the date of first use; therefore, all season passes are valid during the full duration of the event.
A multi-entry pass (30 consecutive days from 1st day of use) is available for Dh195 – offering unrestricted entry for 30 consecutive days.
Season passes, with unlimited entry for the entire six months of Expo 2020, are priced at Dh495.
October Pass – Get unlimited daily access to Expo in October for the price of a 1-Day Ticket i.e AED 95
Premium passes – Unlimited entries for the entire 6 months at AED 1,750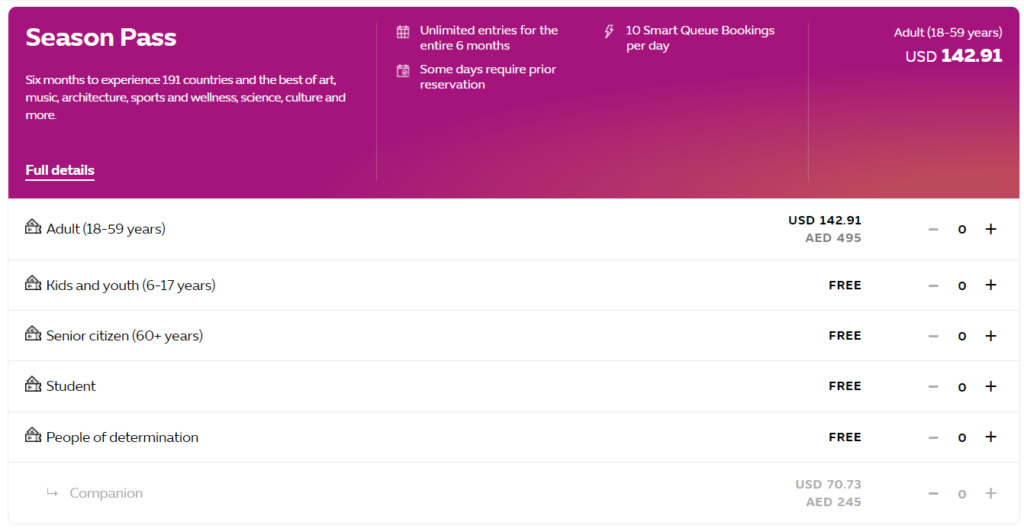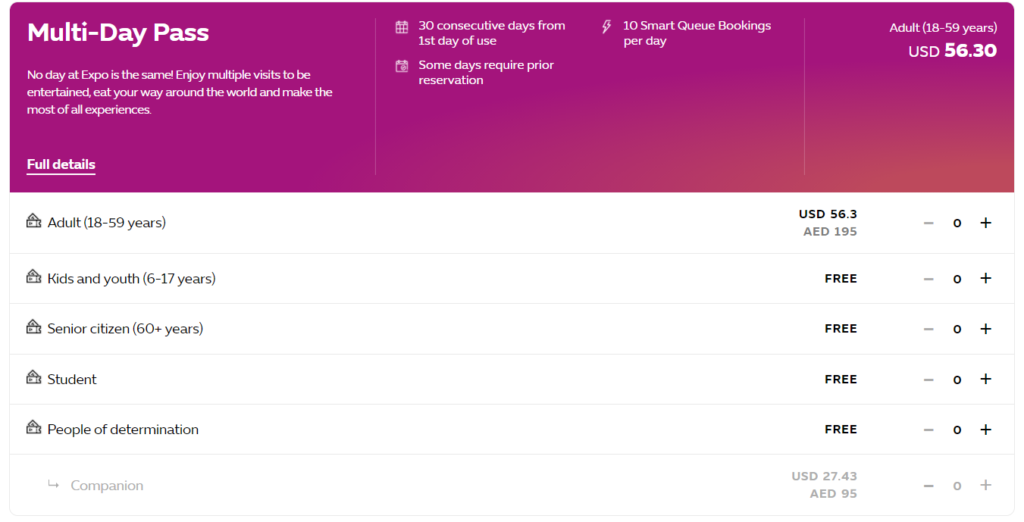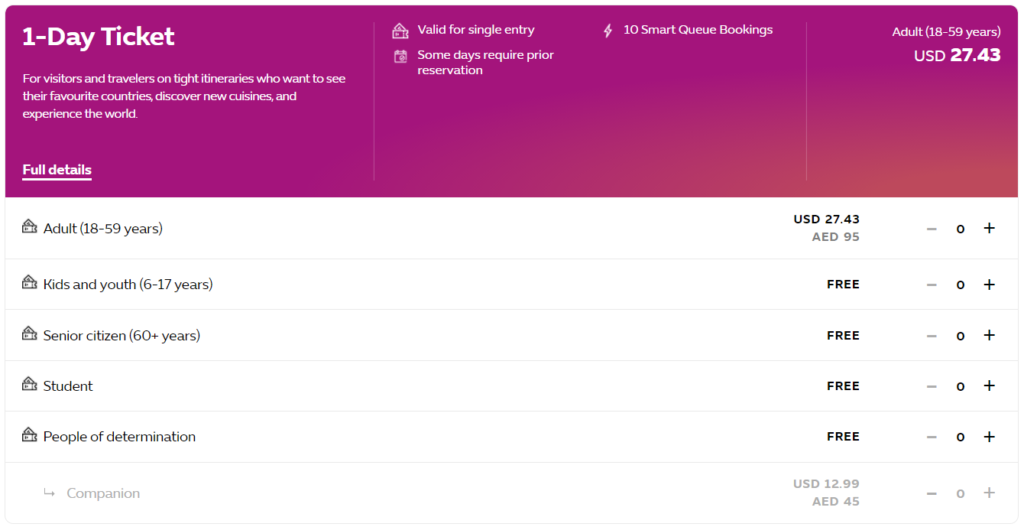 How can you access Dubai Expo 2020?
You can buy all the types of tickets on the Expo 2020 website via authorized ticket resellers who are contracted by Expo 2020, and at the Expo gates. Due to the Covid-19 pandemic, the opening dates have changed; as a result, tickets are not yet available for the new dates.
Expo 2020 will ensure to notify the public as soon as tickets are on sale. Visitors will be able to buy monthly and whole season passes straight from Dubai Expo 2020.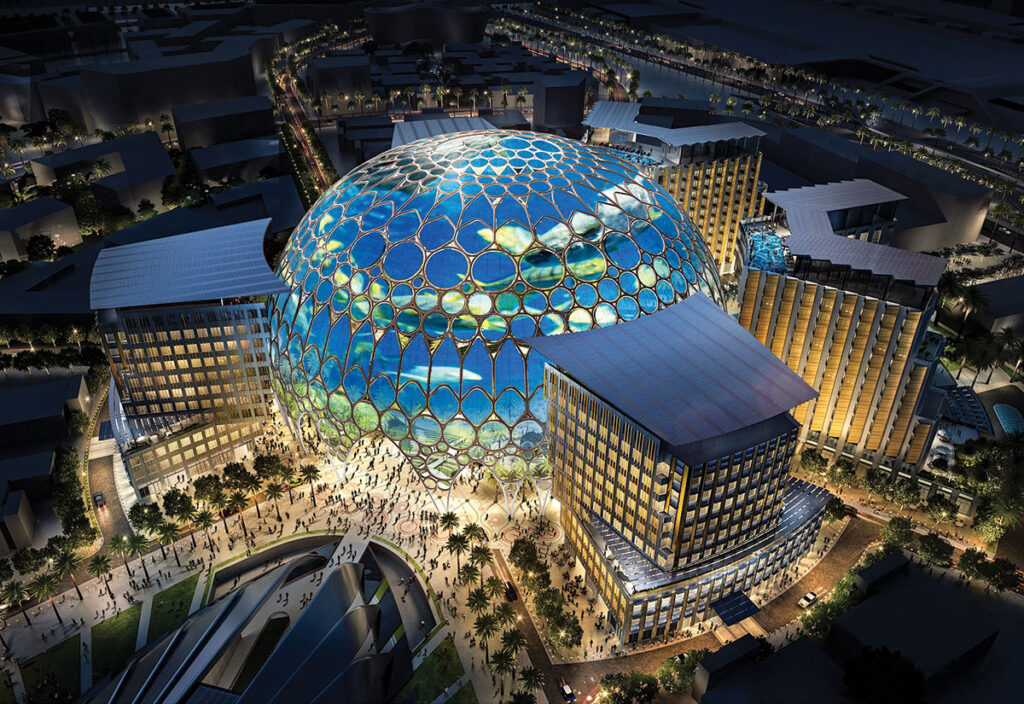 Do you need a visa to enter the UAE?
A visa will be required depending on your citizenship and how much you are planning to stay. In adition to that, the countries listed below do not require any type of visa process and visitors from the following countries will be able to proceed to immigration to stamp their 30-day visit visa-free of charge.
Andorra, Japan, San Marino, Kazakhstan, Singapore, Australia, Malaysia, Ukraine, Brunei, Mauritius, United Kingdom and South Ireland, Canada, Monaco, USA, New Zeeland, Vatican City, Hong Kong, China, Ireland, and Macau.
Regarding the 90-day visa, if you are one of the regions or countries below, your passport will be stamped with a multiple entries 90-day visit visa that's valid for 6 months from the date of issue, and a stay of 90 days in total.
Argentina, Austria, Bahamas Islands, Barbados, Belgium, Brazil, Bulgaria, Chile, Lithuania, Costa Rica, Croatia, Cyprus, Czech Republic, Denmark, El Salvador, Estonia, France, Germany, Honduras, Hungary, Iceland, Italy, Kiribati, Latvia Seychelles, Liechtenstein, Luxemburg, Maldives, Malta, Montenegro, Nauru, Netherlands, Norway, Finland, Paraguay, Poland, Portugal, Romania, Saint Vincent and the Grenadines, San Marino, Serbia, Slovakia, Slovenia, Solomon Islands, South Korea, Spain, Sweden, Switzerland, Uruguay, and Greece.
If your country does not appear on the list above, we have a pre-arranged visa option:
Two days: $10 and is extendable
96 Hour: 4 days from your arrival date and costs $30, this type of visa is not extendable
Tourist (single entry): $90 – 30 days from the first entry date and a fee of $230 to extend.
Tourist (multiple entries): $175 – 30 days from the first entry and a fee of $230 to extend.
Tourist (single entry): $190 – 90 days from your arrival date and a fee of $230 to extend.
Tourist (multiple entries): $230 – 90 days from your arrival date $460 and a fee to extend
Firstly, if you are from a country member Gulf Cooperation Council (GCC), you will not need any type of visa or sponsor to visit the UAE. Secondly, anyone accompanying GCC nationals or GCC residents from a non GCC country must have one of the previous visas before entering the UAE.